CERALEP and MEDUSA4: Supporting Engineering Tradition
Porcelain Insulator Design with MEDUSA4
"We really appreciate the dedication, responsiveness and professionalism of the CAD Schroer France team, particularly the technical expertise provided by Mr Crabbe. Thanks to our partnership with CAD Schroer, we have been able to develop design functionality that supports our unique processes. This has significantly reduced design times, and thus the time it takes to respond to our customers. Together with CAD Schroer France we continue to optimise and automate our design processes and systems to achieve the ultimate in performance and ease of use. We know we can count on CAD Schroer to deliver and develop solutions that meet our expectations and help fulfil our customers' product requirements."
– Emmanuel Mottin, Design Office Manager at CERALEP SN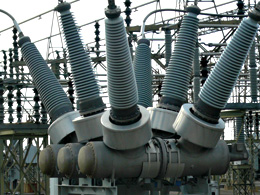 When traditional engineering know-how meets technology that is flexible enough to support the needs of a changing business, great things can happen. CERALEP, the last French porcelain insulator manufacturer, has found a unique way to preserve and secure its business. The MEDUSA 2D/3D CAD suite has been along for the ride. Its design automation capabilities are one of the keys to CERALEP's continued competitiveness.
CERALEP manufactures and markets porcelain insulators, specialising in high and very-high voltage scenarios, and in very large and durable insulators for extreme conditions. Founded in 1921, the French company, headquartered in Saint Vallier, has been through turbulent times, and was saved by a staff buy-out in 2004. Now a remarkable employee-owned and managed cooperative, CERALEP is forward-looking and competitive, ensuring the right mix of traditional craftsmanship and advanced CAD technology to serve its customers' needs.
Tools that change with business needs
Built on a long and deep tradition of hand manufacturing, CERALEP also recognises the value of intelligent design software in support of its processes. CERALEP's drafting department has used MEDUSA for over 20 years to calculate and design ceramic insulators for major electricity suppliers. Its CAD systems have always been maintained at the latest revision, and CERALEP is taking full advantage of MEDUSA's flexibility to develop company-specific tools that drastically reduce design times.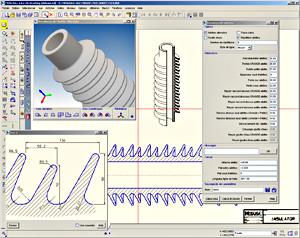 A varied and unique portfolio
CERALEP produces all types of ceramic insulators, including hollow and solid cores, and specially shaped insulators, covering a huge range of networks and voltages. Applications include overhead railway lines, gas insulated stations (GIS), and high frequency radio stations. CERALEP specialises in insulators for extreme conditions, e.g. extra strength designs for areas with seismic activity, or special bodies to withstand extreme temperature variations. Another unique selling point is CERALEP's ability to manufacture extremely large insulator bodies of up to 10 metres.
Applying its experience with ceramics to other areas, the company also provides extremely long-life ceramic tanks for nuclear waste storage. Interested in community collaboration, the company also helps well-known artists, who are attracted by CERALEP's experience with ceramics and its high capacity furnaces, to manufacture beautiful ceramic sculptures.
From Desktop to Substation
Each customer's requirements are slightly different, and insulators are manufactured to exacting specifications. The size and profile of insulator discs (also known as sheds) are particularly important, because the longer an insulator, the higher the line voltage it can support. Since 1948, CERALEP's engineering design department has created over 2,000 different drawings and has a huge wealth of MEDUSA CAD designs to show for it.
Automatically Generated Electrical Insulator Design
In the early days of MEDUSA Classic, then MEDUSA NG, CERALEP's designers used a batch tool to automatically draw the profile of two or three insulator disks based on parameters provided in their MDB database. Designers then manually extended the profile to create a complete insulator drawing.
With the advent of the MEDUSA4 (the Fourth Generation) – developed by CAD Schroer after acquiring the software – things became much more automated: CAD Schroer France developed a new interactive tool for CERALEP. The tool provides a user input dialog for choosing drawing options and entering the required dimensions, such as shed span width, the radii of the connectors underneath each shed, the chamfers beneath and above the sheds, the type of profile etc. The software performs a calculation, reports any errors (e.g. a clash in data input) and then automatically creates fully dimensioned electrical disc insulator drawings.
If designers change any of the parameters, the software automatically recalculates and redraws the design. Users can then save their definition for re-use in other projects.
The result is an integrated solution which has significantly cut design times and offers a quick, efficient and consistent way for CERALEP's design team to respond to client requirements.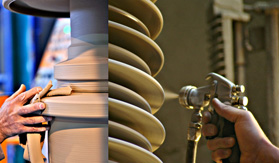 With the upgrade to the MEDUSA4 ADVANCED package, CERALEP now also uses basic 3D to quickly create complete drawings with isometric views and 3D models of insulators, which allow its customers to see exactly what the finished product will look like.
CERALEP can manufacture insulators up to 3 metres long in one piece, and up to 10 metres glued. The process takes about 10 weeks in total. The MEDUSA4 drawings determine how the clay is turned to create the necessary discs. After drying, insulators are covered with a smooth glaze in the customer's required colour; then they are fired. Finally, the metal fittings are cemented, before the finished products start their new life in the energy, communications or transport sector.
CAD Schroer France and CERALEP's engineers continue to work together to further automate design processes and look forward to implementing new ideas well into the future.
For more information about CERALEP, please visit www.ceralep.com.