i4 AUGMENTED CATALOG - Augmented Reality (AR) for your product catalogs
Show impressive 3D models of your products directly above the images in your catalogs, data sheets or brochures.
Bring your marketing materials to life
Augmented Reality (AR) offers your company new possibilities to bring data sheets, brochures or catalogs to life. With the help of AR, your marketing documents can not only contain simple photos or images, but also three-dimensional models that are displayed above the images to match the content.
i4 AUGMENTED CATALOG offers you an easy entry into the world of Augmented Reality. Each model is linked to an image in your marketing materials. Now anyone looking at your catalog can also view models of your products and appreciate their features and benefits like never before.
i4 AUGMENTED CATALOG Advantages summarized
Highlight the benefits of your products with detailed 3D models.
Present exploded models and animations.
Present products to customers in augmented reality
Use at events and trade fairs
Trigger a sense of innovation with augmented reality
Increase enthusiasm for your products
Support sales and marking communications
Use your existing CAD models
Use our model simplification service
Intuitive operation
High performance
Supports common hardware
Marketing digitalization by i4 AUGMENTED CATALOG
Digitalisation is progressing steadily and the Industry 4.0 initiative is showing businesses the way ahead. Using augmented reality to market and distribute your products is one of the innovative steps that will drive your business forward. i4 AUGMENTED CATALOG offers you the easiest way to take this step.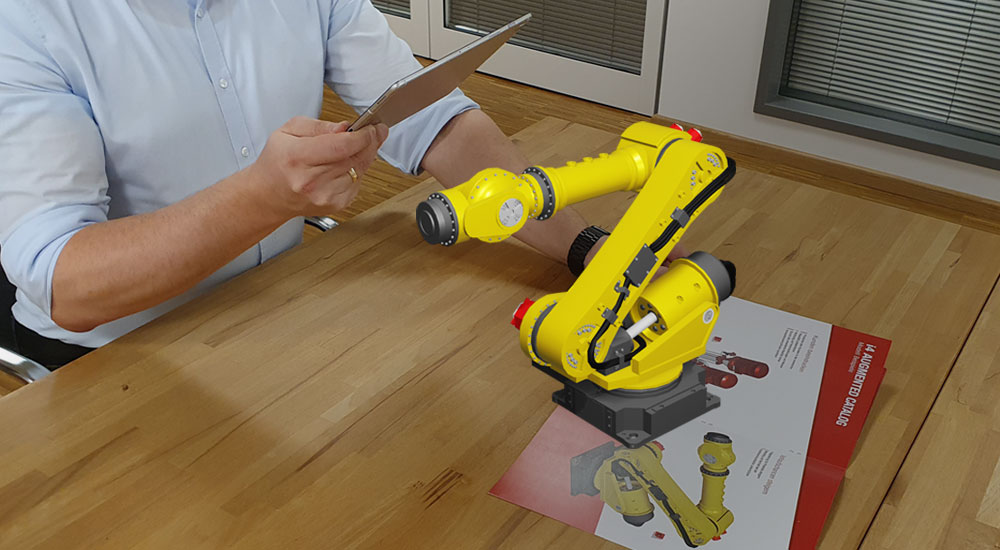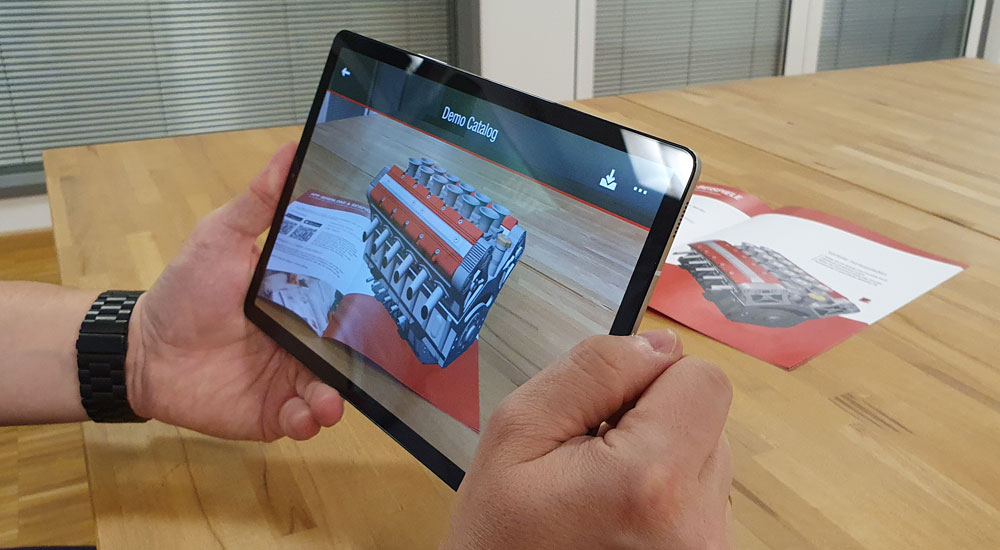 Experience products with Augmented Reality
Augmented Reality enables you to display your products digitally in the real world.
This is how AR catalogs work
Using an AR catalog is very simple. A QR code is placed in your catalog or data sheet together with a note mentioning the AR experience. When the user scans the QR code with their mobile device, a website is presented where the i4 AUGMENTED CATALOG App can be downloaded. With this free AR app, the user then scans the same QR code on your data sheet to access the AR experience. The App recognises product images in your catalog or data sheet and automatically displays the corresponding models above them.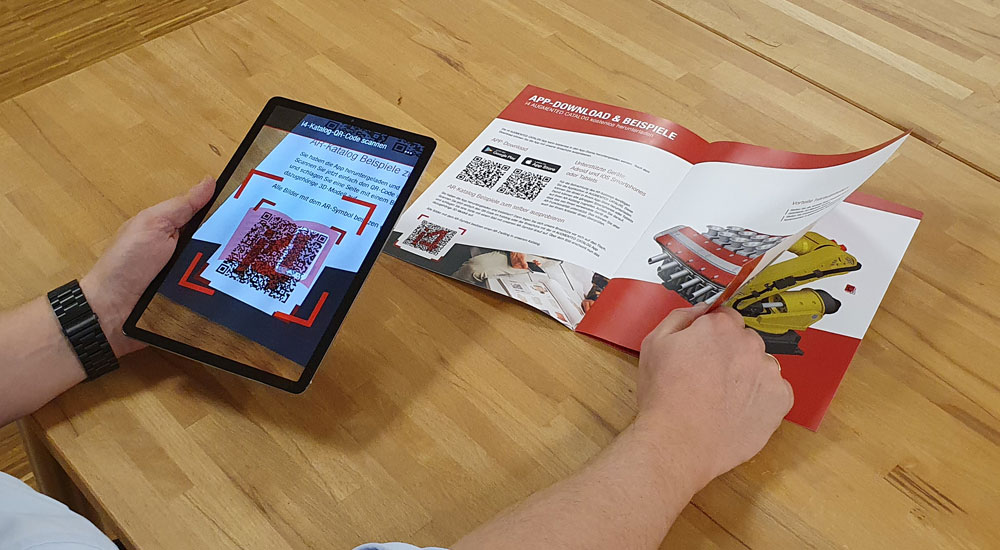 Features for all your requirements
Or contact our consultants:
+44 1223 850942
Adroid and iOS Smartphones or Tablets
To view an AR catalog, you need the i4 AUGMENTED CATALOG App. You can download it directly from your App-Store. This allows common smartphones or tablets to access your AR catalog. Make sure that the device you are using supports the AR functionality first. You can also check this directly with your provider. Overview of supported platforms:
Apple®
GoogleTM
Cloud hosting for AR catalogs
With our cloud service we take over the hosting of your AR catalogs. This enables us to ensure that your AR catalog content can be accessed around the clock and around the world with a high level of performance.
In addition, our support team will be happy to answer any questions you may have about your AR catalog. And of course we are happy to support you in the creation of your 3D catalog content if required.
Launch your AR catalog now
Start now with your first AR catalog
Contact us and we will provide you with all the information you need on AR catalogs. We will also be happy to make you an individual quotation for your first AR catalog.
Contact us and create your AR catalog