Comprehensive data management in plant design
M4 PLANT – Plant Design and Factory Layout Software
Full solution for data management and project administration
The efficiency of a plant or factory is decided in the planning phase. This is why it is essential to have the support of a professional data management solution. Today, engineering data and documents are part of the intellectual property and capital of any company. To make the most of these investments, control, sharing and reuse are key to increased quality, effectiveness, success and profitability in all projects. As an advanced data management solution, Project Data Control (PDC) accompanies efficient projects with a consistent information flow of all product-related data, and helps to achieve optimum results. PDC is integrated in M4 PLANT at project management and user level.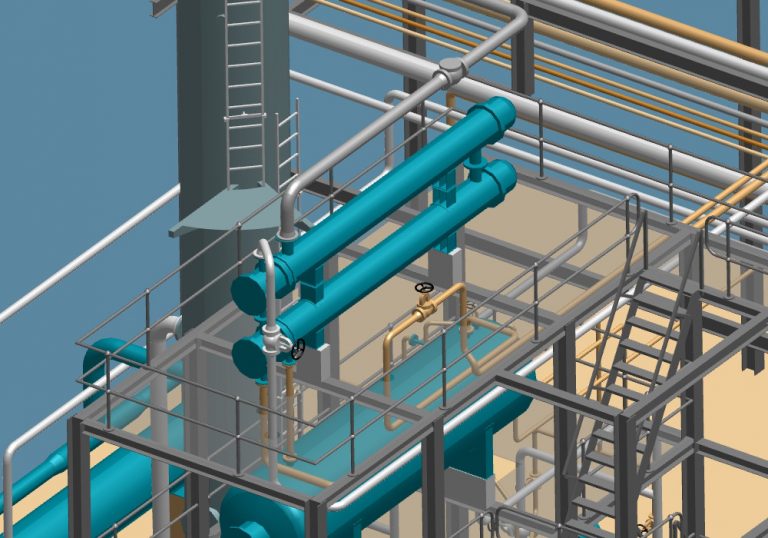 Worldwide Plant Project Collaboration
PDC works with your preferred database architecture, and provides access from your design software or via the Web, enabling project collaboration across distributed locations without a significant administrative burden or the complex implementation requirements demanded by many other information management solutions. Data can be made available to other PLM, PDM or ERP systems, as well as to distributed user groups working in different time zones. Companies with multiple design offices gain a controlled way of working on the same project and sharing data across continents.
Flexible use of Databases
The PDC database allows you to use your choice of database architecture, such as Oracle for example. Database access is provided by M4 PLANT or via the Internet. PDC allows you to manage all your project-related content, including 3D models (DXF, STL, IGES, STEP, VRML, MOD), 2D drawings, spreadsheets, and piping isometrics.  It also looks after design-specific data, such as component attributes, parts lists or the current editing status of a drawing.
Project administration with the M4 PLANT project manager
As a project administration tool, the M4 PLANT project manager enables entire project databases in PDC to be managed online for all sites. The simple and extremely effective project manager enables clear structuring, design and documentation of projects from M4 PLANT.
Administrators can use the Project Manager to administrate entire project databases in PDC and thus enable collaborative design across multiple locations. Users of M4 PLANT can query any equipment models stemming from PDC to see where they are used, and if they are up to date. They can access the latest version of a piece of equipment in PDC, with the choice of updating the equipment in their design if appropriate. Where-used queries can be performed on named objects to find out in which documents they are represented (e.g. as a P&ID symbol, an M4 PLANT instance, or a 2D view), thus assessing the implications of making a change. Such queries also help to find similar projects, enabling users to copy databases for a quick start on new designs. Users can also explore relationships between documents, such as between model files and their definition sheets. Downstream engineering data, such as piping isometrics, can be made available via PDC, thus making them accessible to all project stakeholders.
The PDC integration provides total project document management, including document revision and status control. Users can manage and track paper-based ("virtual") documents, and store non-graphical design data, such as part numbers, for easy retrieval. The system locks files being edited, and can inform other users when a new version is available. PDC can also use M4 data (components, assemblies, drawings etc.) for the management of parts lists or Bills of Materials (BOM), and allows designers to search and retrieve components from different drawings for use in their current design.