Exhibition stand ideas:
Reinventing the trade fair experience with XR
Innovative ideas bring more visitors to your exhibition stand and XR has everything you need to revolutionise the exhibition experience forever.
Trade fairs and events offer companies the opportunity to meet potential customers face-to-face and increase their visibility in the market. To achieve this goal, it is important for every exhibitor to come up with creative ideas for their stand that will ensure lots of visitors to the stand.
Add a header to begin generating the table of contents
An exhibition stand needs creative ideas
While we are entering a new era of digital innovation, trade shows are also still an essential platform for companies to showcase their products, services and market innovations. To ensure that the visitor experience remains engaging or even exciting, it is important that exhibitors find creative and different ways to attract more people. This is also where innovative XR technologies and concepts come in, which are currently a big crowd puller.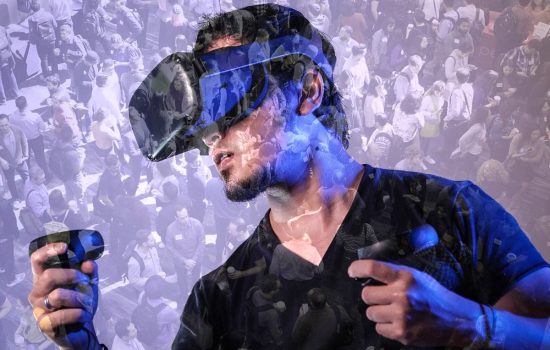 How do you attract more visitors to your exhibition stand?
The key to a successful trade fair appearance is to attract enough interested visitors to your stand and to inspire them with your products and services. Innovative trade fair stand ideas help to pique the interest of trade fair visitors. Here are some tips on how to get more visitors interested in your exhibition stand:
First, make sure that the overall design and layout of the stand attracts attention. Eye-catching graphics and interactive elements can be great ways to engage with potential customers and create a memorable experience. In addition to using creative displays or video walls, emphasis should also be placed on innovative technologies. One innovative idea for your exhibition stand is the use of XR technologies, which is described in detail here.
Exhibition stand ideas inspired with new XR technologies
Trade fairs are becoming increasingly competitive and it is essential for exhibitors to stand out from the competition. A great idea for an exhibition stand is the use of XR technologies, which offer numerous possibilities to attract and inspire visitors by presenting your products in a very innovative way. These technologies are not yet widely used and are therefore perfect for creating a lasting impression. After all, innovative technologies lead to more attention and therefore more visitors as well as leads.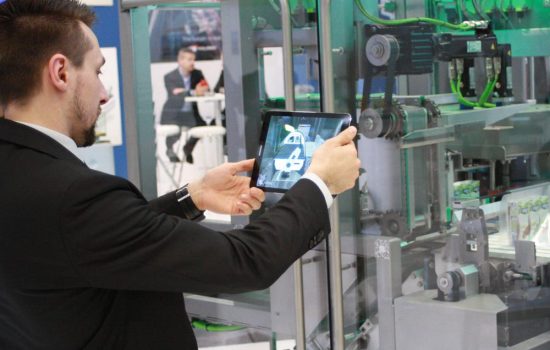 XR stands for extended reality and is a collective term for all technologies that enable users to experience digital content more realistically. The term combines both virtual reality (VR) and augmented reality (AR). VR uses computer-generated models to create virtual worlds within which users can interact. This is achieved with the help of a VR headset, which allows a person to fully immerse themselves in the digital world and experience it as close to reality as possible. In comparison, instead of replacing the real world with a virtual one, AR adds digital content to the real world. People can then experience the digital content via an AR headset or using a smartphone or tablet. Now XR is now gaining polularity as a new exhibition stand idea.
Why XR is a good idea for an exhibition stand
When it comes to trade shows, XR technologies enable memorable experiences for all trade show visitors. Here are three reasons why every company should look into using these technologies:
1. XR improves product presentation
XR can present even very large products realistically. This allows companies to take all their products to trade shows cost-effectively and present them in a memorable way.
2. XR opens up new ways experience your products
XR can be used to create digital journeys that allow each visitor to experience a product for themselves. Gamification can also be used to good effect here.
3. XR makes an exhibition stand innovative
XR technologies are innovative and this reflects well on companies that uses these technologies on their exhibition stand. These companies are simply ahead of the curve from the visitor's viewpoint.
The advantages of XR on the exhibition stand
There are many benefits from using XR technology at trade shows and events. By using XR, companies can create a memorable experience for their customers that sets them apart from the competition. Some of the benefits of using XR on the exhibition stand include:
Increased customer engagement: customers like to interact with companies that use the latest technologies. This increases their brand awareness and thus ensures more sales in the long run. Exhibitors using XR technology on their stand appreciate the ability of these technologies to engage customers in a way that traditional demonstrations cannot come close to.


Unforgettable Experience: With XR on the stand, attendees can immerse themselves in interactive product demos, explore life-like simulations of products or services, interact with 3D models or holograms of company representatives, and much more! Customers will remember companies that provide them with an exceptional experience.


Stand out from the competition: With the immense number of companies competing for attention at a trade show, it is important to stand out from the crowd.
Exhibition stand idea XR - it's that easy to implement
If you are already convinced and would like to know how XR can be used on an exhibition stand as quickly as possible, here are 5 ideas for using these innovative technologies.
1. use VR areas as eye-catchers
VR experiences are used to allow visitors to see products in a realistic way. This can easily be achieved with VR glasses and a VR viewer such as i4 VIRTUAL REVIEW. A minimum area of 2 x 2 metres (preferably delimited) should be used for the VR area directly at the outside of the exhibition stand. This attracts the attention of the trade fair visitors. This way, everyone walking past the stand will see that there is something special to experience here and will stop by.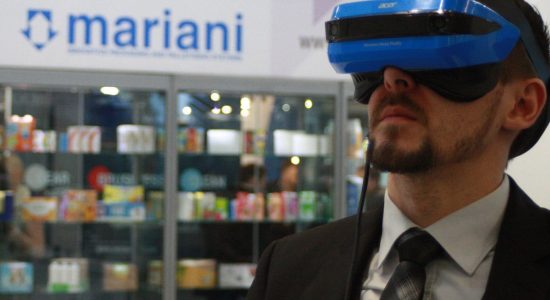 In addition to presenting the models, complete VR experiences can also be used. Here, a story can be told around the products. For this purpose, instead of the VR viewer, complete VR experience worlds are created entirely according to one's own wishes and requirements. This not only builds up a story around the product, but also creates a great experience for the prospective customer at the trade fair.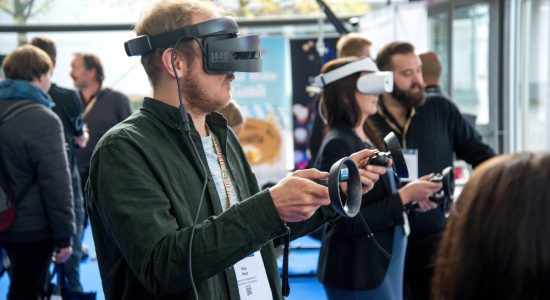 3. AR presentation of the products
With the help of AR glasses or a tablet, virtual products can be presented directly at the trade fair stand. To do this, the 3D models of products are simply positioned in the real environment with an AR app, such as i4 AUGMENTED REVIEW, and thus presented directly.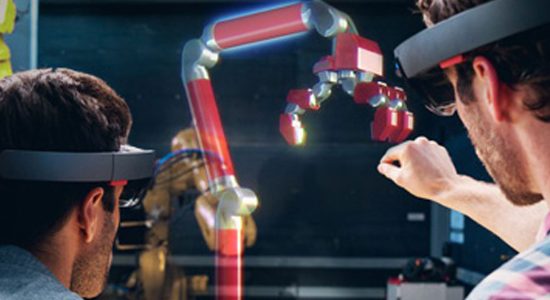 With AR apps, the real product presented on the stand can be overlaid with a digital image. This allows the trade fair visitor to see inside a product, for example, without having to cut it open in real life. This is often an enormous advantage if you want to show the exact function of your product without having to disassemble the product directly. These types of AR apps are individually adapted to suit  the respective product.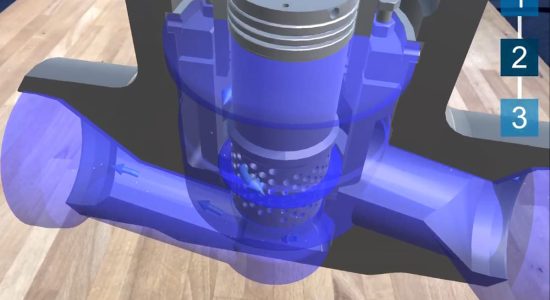 5. sustainability: meetings in the virtual world
Exhibitors can use VR solutions such as i4 MEETING to immerse themselves in a virtual world together with their customers. In this way, a second trade fair stand can be created in VR, which the sales department can also use with its prospective customers worldwide after the trade fair.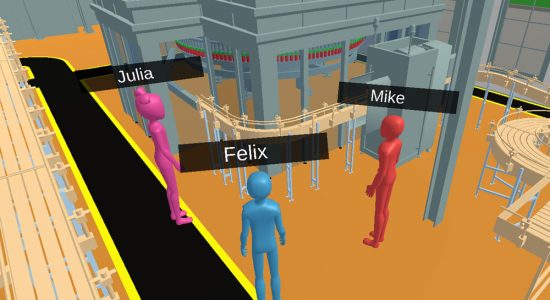 The challenges of XR on a stand
Setting up a stand at a trade fair with XR technologies also poses challenges. Not only do stand staff need to be familiar with the new technology, but they also need to have a backup plan in case something doesn't go exactly as planned. Here are the best ways to overcome these challenges.
Overcoming challenges, but how?
When using VR technologies, make sure there is enough space. VR areas need at least 2 x 2 metres of space. If you are using VR experiences where you want users to move around a lot, you should plan for more space. Also, make sure that this area is easily visible from the aisles and has at least one barrier so that visitors can view the virtual world in peace without being disturbed.
Do not leave visitors alone when using VR. There should always be a staff member standing next to the current VR visitor, either assisting them in using the VR or making sure they do not move out of the area or get tangled in the cables of the VR glasses.
There should also always be an effective exit strategy in place. The experience should be impressive for the individual visitor, but should not last too long. Otherwise, a queue will form that is too long, and the goal on the stand is always to impress as many prospective visitors as possible. The staff should also have a plan for what happens after the experience. For example, the supervisors could already talk to the visitors about their requirements or points of contact with their own products during the experience. If this visitor then turns out to be a potential customer, the VR attendant can invite him to a coffee at the counter, where a colleague from the sales department is already waiting and can then advise the visitor even more extensively about the company's own products.
Attention should also be paid to the simplicity of the XR applications shown. They must be so easy to use that visitors can cope with them without much training. This allows the stand staff to concentrate on the conversations and not have to constantly think about how exactly to operate the app. Intuitive user interfaces and operating concepts save a lot of time and seem all the more modern the easier they are to use. The visitors to the stand will then also notice this.
5. sustainability after the fair
Visitors may have had a great experience, but they can't take the XR experience with them and show it to colleagues in the company. So why not give the visitors an AR app or printed documents with AR experiences. For example, a brochure can be designed with an AR app so that 3D images of the products simply pop up above the product images. This way, the XR experience can be carried into the company.
The future: What does the future of XR look like?
In just a few years, XR has gone from a niche technology to a household name. Thanks to rapid advances in hardware and software, XR is now more accessible than ever before. What does the future of XR currently look like?
One thing is certain, the potential for XR is limitless. We are just scratching the surface of what this technology can do. As we continue to develop new ways to use XR, the possibilities keep expanding. In the near future, ever more companies and organisations will be using XR technology. From training and education to product design and marketing, XR will revolutionise the way we work and interact with the world around us.
Exhibition stand ideas summarised
Use VR areas as eye-catchers and attract visitors
Create VR experiences and tell stories
Present product functions even better with AR
Overlay products with digital information or videos using AR
Impress customers worldwide with VR meetings
Present visitors with a virtual showroom of your products with VR
Let customers try out the product with VR
Let the customer take the product home with an AR app
Liven up product presentations with gamification approaches
Show how large or dangerous machines work with AR or VR
VR tour of the company to give an insight into your own working methods
Create mini VR training sessions for your product and emphasise the simplicity of operation
Use AR or VR to see products in action in different scenarios
Use XR to show the product history or the creation of products
Use XR to organise a quiz where visitors can test their knowledge about the product or the company
i4 Solutions Team from CAD Schroer helps you with conceptual design and implementation
Contact us to find out which XR technologies best suit your company. We will work with you to create the right XR concept for your exhibition stand and supply all the technologies you need. We will also be happy to assist you in training your staff in the use of the new devices and applications.
FAQ – XR technologies on the stand