Joining customers' sales engineers at leading industry events, CAD Schroer demonstrated how to transform 2D layouts into winning 3D project quotations
Cambridge, UK and Pittsford, NY – 30 July 2014: For industrial sales engineers whose clients expect keen project pricing, time is of the essence. But quality and clear, professional project presentations are equally important. Are 3D layouts a realistic goal when you have a day to create a proposal?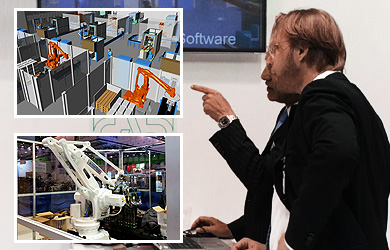 CAD Schroer joined customers Mariani and Verderio at Interpack and VIV Europe 2014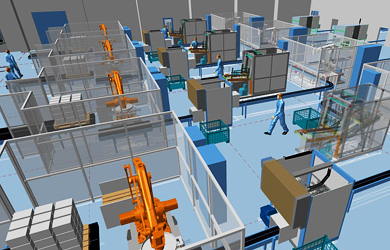 An automated Mariani packaging line designed with MPDS4 Factory Layout
2D to 3D Factory Design
For packaging systems provider Mariani and poultry and game processing plant provider Verderio Impianti the answer is a big 'yes'. Both forward-thinking firms invited CAD Schroer to demonstrate the MPDS4 Factory Layout software at their stands. This allowed their sales engineers to understand the value of 3D project proposals, and demonstrate projects designed with MPDS4 to end customers.
Understanding Pre-Sales Constraints
"The events helped us to better understand our customers' clients and the constraints placed on sales engineers – keen pricing and time pressure," explains Sergej Schachow of CAD Schroer, who joined Mariani at Interpack. "A bottling line layout proposal often has to be completed in one day. Yet the result is key to selling the project to the customer, potential investors, and stakeholders. We showed how MPDS4 can be the ideal solution for project selling."
MPDS4 Factory Layout software videos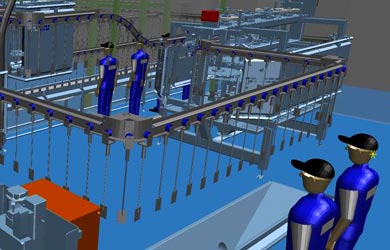 Part of a Verderio Impianti meat processing plant designed with MPDS4
The Comfort of 2D – The Benefits of 3D
Most machinery providers create layouts in 2D – a fast and proven method. But 2D may not be sufficient when space is restricted, or when suppliers need to take into account a customer's existing equipment, while introducing machines tailored specifically to a client's process. When conveying spatial dependencies and key layout elements, 3D proposals provide a big competitive advantage. "CAD Schroer has been showing us how to get the benefits of 3D without sacrificing speed," says Dr Marziano Genovese of Mariani. "MPDS4 can create 3D layouts based on 2D drawings, so sales engineers can still work in 2D. We extend the symbol catalogs to include links to our bespoke 3D components, then the system creates the 3D world from our sales layouts. We gain automatic interference checking, clear communication between the sales force and the customer, and a head-start when an order is placed."
Project Visualisation & Communication
Consultant Alan Pitt worked with Managing Director Simone Casiraghi of Verderio Impianti and his team at VIV Europe, preparing MPDS4 project demonstration videos for large overseas clients. "We understand how important clear proposal communication is," says Dr Casiraghi, "especially for Owner Operator clients needing to secure investment or external funding."
MPDS4 3D Visualisation, Walk-through and Review Tools
"The Verderio Impianti and Mariani management and sales teams are extremely knowledgeable, with a strong vision for the development of their business through the aid of our software tools," says Alan Pitt, "It was a pleasure to learn from them, and to support them."
Mariani food and pharma packaging systems
Verderio Impianti meat processing machinery