Sustainable Energy Plant Design at Nextgen 2013
At Nextgen 2013 CAD Schroer highlighted its campaign in support of sustainable energy, providing large-scale power plant design software at cost
Cambridge, UK and Pittsford, NY – 13 November 2013: Supporting renewable energy projects with affordable plant design software is a key goal for CAD Schroer. The software provider demonstrated its technology at Biogaz Europe in March, at Sustainability Live in April, and at Nextgen 2013 in October.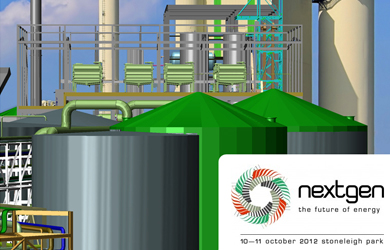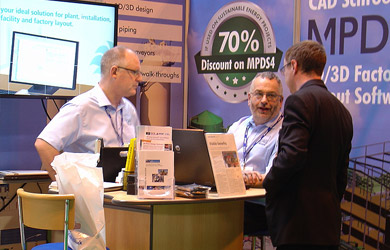 Significant savings for sustainable energy plant and factory designers
"As global environmental concerns drive local policy, new energy from waste (EFW) technologies keep emerging, making the exploitation of renewable energy sources more and more efficient. Biomass, anaerobic digestion for the creation of biogas, combined heat & power, and EFW were on the top of the agenda at many shows this year," says Anke Adams of CAD Schroer. We attended with the goal of making it more affordable for renewable energy plant providers to plan and deliver new projects."
CAD Schroer demonstrated 3D plant engineering software
CAD Schroer demonstrated its M4 PLANT 3D plant engineering software, which allows project engineers to design plants of any size, route and connect services, and quickly cost Brownfield or Greenfield projects. CAD Schroer offers a discount to companies using the software on renewable energy projects, along with discounted maintenance and support services.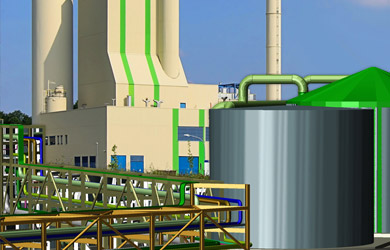 Saving 3D Views for Collaborators and Customers
In addition to the existing tools for choosing different views and conducting camera-like 3D walk-throughs, M4 REVIEW now allows users to name and store different views of a model or plant, which can then be selected and displayed at any time.
This makes the tool even more ideal for collaboration with suppliers, colleagues and customers, as different views can be saved with a model, which can quickly be selected during a presentation to (or by) a customer, or during a meeting with collaborators.
M4 REVIEW is available for immediate download