This is where virtual and augmented reality come into play. This emerging technology attracts the attention of participants and creates an experience that inspires and involves exhibition visitors. Large companies are fascinated by the possibilities of Mixed Reality at trade fairs and are already making targeted use of them.
What's the difference? Virtual vs. Augmented Reality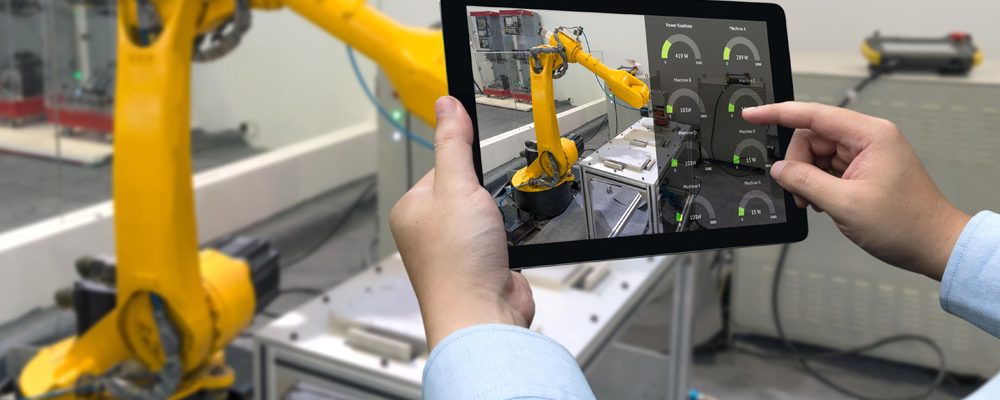 In addition to the increased attention from exhibition visitors, Mixed Reality offers exhibitors the opportunity to present entire product lines, complete service offerings or an extensive portfolio in a very small space. Before starting to design a Mixed Reality experience for an exhibition, it is helpful to define and distinguish between the different terms. This is because Mixed Reality is a collective term, which stands for the fusion of the digital world with the real world. Currently, the most important technologies are virtual and augmented reality.
Virtual Reality (VR)
In the field of virtual reality, users use VR glasses or a headset to immerse themselves in a virtual environment. Thus, VR offers countless applications and possibilities. Completely independent of the exhibition stand, users can walk through virtual showrooms, look behind the scenes of daily operations or interact with products through virtual demonstrations.
Common VR devices include:
Microsoft Mixed Reality glasses, HTC Vive or Oculus Rift headsets, all use the latest technology to immerse the user in a vibrant and interactive experience.
VR cardboards or glasses for smartphones are lightweight devices made of cardboard or plastic. This versatile, low-cost system turns a smartphone into a virtual reality headset with VR-friendly mobile applications.
Augmented Reality (AR)
Augmented reality complements a real environment, such as an exhibition stand, a brochure or a product presentation, with interactive digital information. AR typically uses handheld devices, such as smartphones or tablets, to present a view of the real environment overlaid with digital information. For example, 3D models, product data and specifications can all be presented in this way. This allows participants to interactively explore digital information beyond the physical limitations of the real world.
Common AR devices include:
Smartphones and tablets powered by mobile applications that allow visitors to interact with an exhibit at their own convenience.
QR codes allow participants to scan labelled items on the exhibition stand to quickly access product, service or company information.
AR glasses overlay the user's field of view with digital information based on what the visitor is looking at on the exhibition stand.
Advantages of Mixed Reality at exhibitions
The use of Mixed Reality at exhibitions has many advantages. However, for success, it is crucial to know that creating a VR/AR experience requires a lot of planning and preparation. The aims for the use of Mixed Reality technology in an event must therefore be clearly defined. Is it aimed at strengthening one's own brand? Is the aim to win leads? The presentation content must be carefully designed in line with these goals.
Attract the exhibition visitor
If an unforgettable experience is to be created for exhibition visitors, it is important to share the history of the brand. Mixed Reality presentations are a way to engage visitors with thoughtful content, such as a creative sales pitch focused on meeting their needs, or providing information about the company's history. It is not enough to create Mixed Reality content; it must be deeply anchored in the visitor's mind.
Space expansion
The purpose of exhibitions is to get in touch with visitors in a personal environment. With Mixed Reality, exhibitors can go one step further by creating an experience that transports visitors to a warehouse, sales floor, production facility and beyond. This can be an incredibly powerful tool for exhibitors, especially when the exhibition stand is small. Some ways to do this are:
Creation of a showroom for an entire product line using Augmented or Virtual Reality.
Using Virtual Reality to guide visitors through the manufacturing process.
Provide a virtual journey to the company's premises and presentation of the team.
Integration of Augmented Reality with product presentations to provide additional information and selection options.
Fantastic product demonstrations
Traditionally, product demonstrations were limited to products that could be physically brought to the show or electronically displayed on TV monitors. However, Mixed Reality technology allows exhibitors to free themselves from these limitations and display entire product lines regardless of the stand size or display capabilities.
Use of Mixed Reality to increase leads
The easiest way to take advantage of all the attention is to request a participant's information as part of the Mixed Reality processes. Lead capture devices, such as business card or badge scanners, make this a simple, natural process. Creating an interactive experience motivates trade show visitors to learn more about the company and generates high quality leads based on real interest.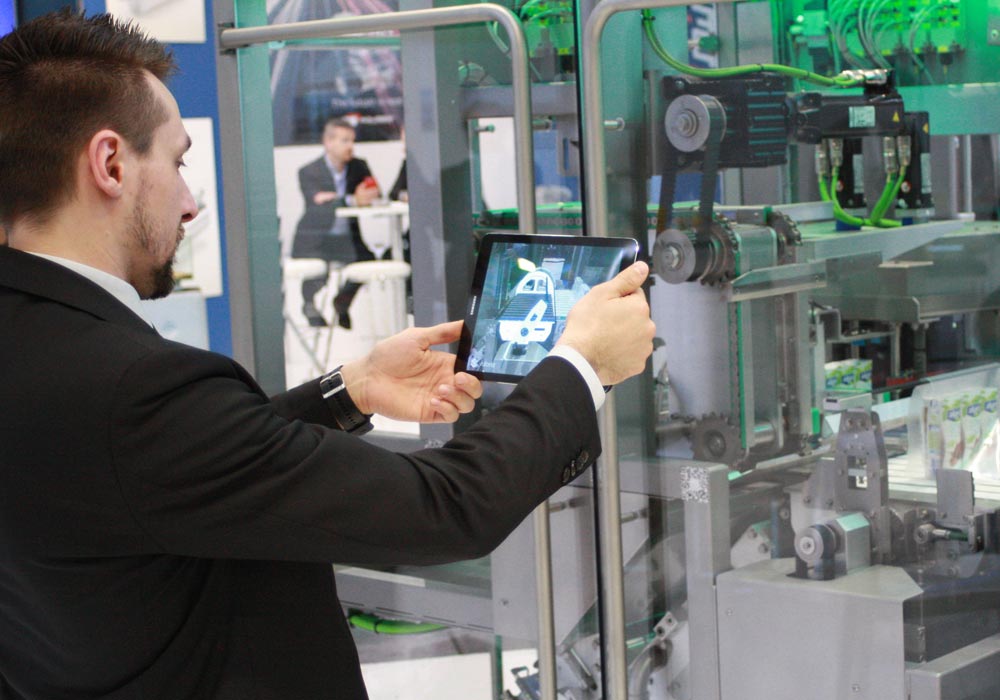 Careful experience planning
Visitors are constantly on the move during exhibitions, trying to achieve as much as possible in a limited time. When presenting a Mixed Reality experience to a stand visitor, every minute counts. Therefore, the following points should be given special consideration when designing the concept:
If the Mixed Reality presentation is short and concise, more visitors have the opportunity to participate in the experience, while the stand personnel have time for questions and sales-oriented discussions.
The Mixed Reality environment must be simple to operate and user-friendly. Complicated technologies can affect the overall experience.
Intense Mixed Reality experiences can overwhelm stand visitors. Informative, fun content is better for a pleasant and unforgettable experience.
Great promotional gifts
Augmented reality Apps that can be used on visitors' own devices after the show make excellent promotional gifts which also increase the chance of them being shared with someone else. A product brochure with QR codes that trigger appealing AR content enables visitors to discuss products with their colleagues long after the event.
On the virtual reality side, inexpensive headsets like Google Cardboard make great giveaways or competitive prizes. Coupled with interactive features throughout the exhibition and effective brand placement, they are the perfect for attracting visitor attention.
Exhibitors can use virtual and augmented reality to create immersive brand experiences that go beyond the normal scope of the marketing strategy.
The easy way to succeed at exhibitions using Mixed Reality
Exhibitors can use virtual and augmented reality to create immersive brand experiences that go beyond the normal scope of the marketing strategy. Virtual and augmented reality can be used to bring the history of a brand to life. CAD Schroer specializes in Mixed Reality applications and creates custom AR/VR Apps for tablets, smartphones or AR/VR glasses. Existing products can be easily transferred to CAD Schroer as CAD models and animated as needed. In addition to custom Apps for specific platforms, standard solutions can also be used. For example, CAD models can be imported into VR directly at the exhibition using the M4 VIRTUAL REVIEW VR Viewer.