CAD programs: Complete overview and free downloads
A complete overview of 2D and 3D CAD programs with free downloads to get started with the right program directly
Nowadays, most manufacturing companies use CAD programs to develop new products and even to design entire production plants and factories. For many of these companies, sooner or later the question arises as to which CAD program is best suited for the tasks and challenges they face.
CAD programmes are used by almost all companies that need to plan a product, a building or a plant as well as create the corresponding documentation. These programmes are used both for designing new products and for detailed planning of complete production facilities and factories. Since a company often has to master various challenges with a CAD programme, the question always arises as to which CAD programme is best suited for the tasks at hand. Therefore, here is a complete overview of what CAD programmes actually are, what types of CAD programmes exist and what they can be used for.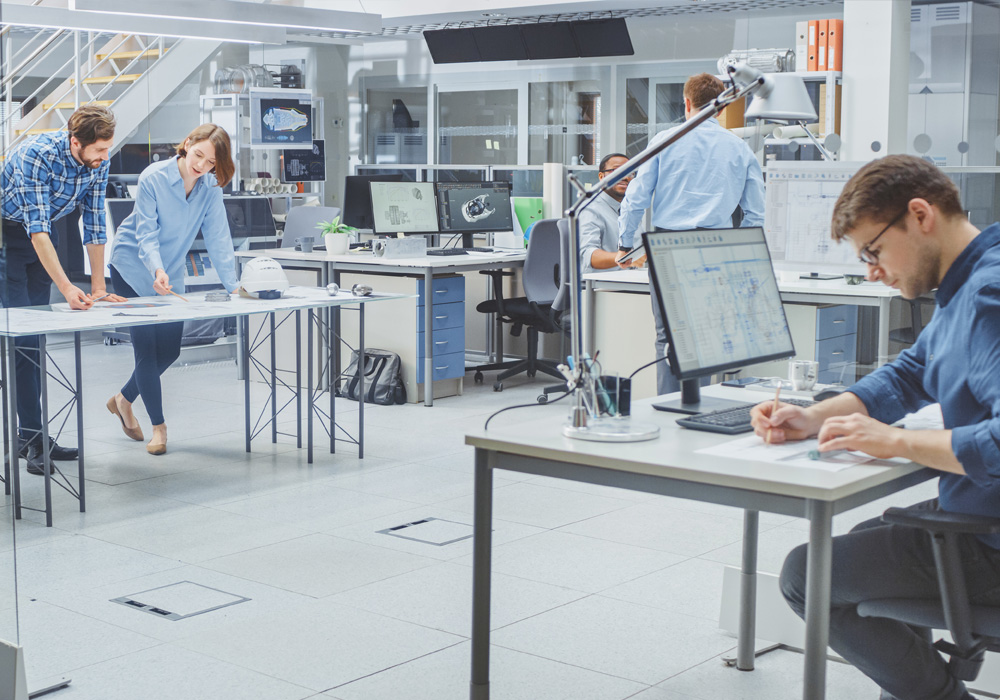 CAD Programs – A short introduction
Many different CAD programs are available on the market and are generally categorised as being either a 2D or a 3D CAD program. The systems can be further differentiated according to the type of design work they intended for, as well as the functionality they offer. Each system also has its own unique user interface and proprietary file formats for storing the design data.
What exactly is a CAD program?
The abbreviation CAD stands for Computer-Aided Design. Design tasks are performed using a computer and a suitable CAD program. CAD programs are used to design products such as machinery, robots, and cars. Depending on the type of CAD software used, technical drawings (2D CAD) or 3D models (3D CAD) are produced, which are then used for product manufacturing.
CAD programs are used by companies in a wide range of industries such as mechanical and process plant engineering, product development and manufacturing, architecture and construction, consumer goods, footwear and shoe design, industrial equipment, and the automotive sector and public utilities. The main users of the software are architects, designers, detail draughtsmen and engineers.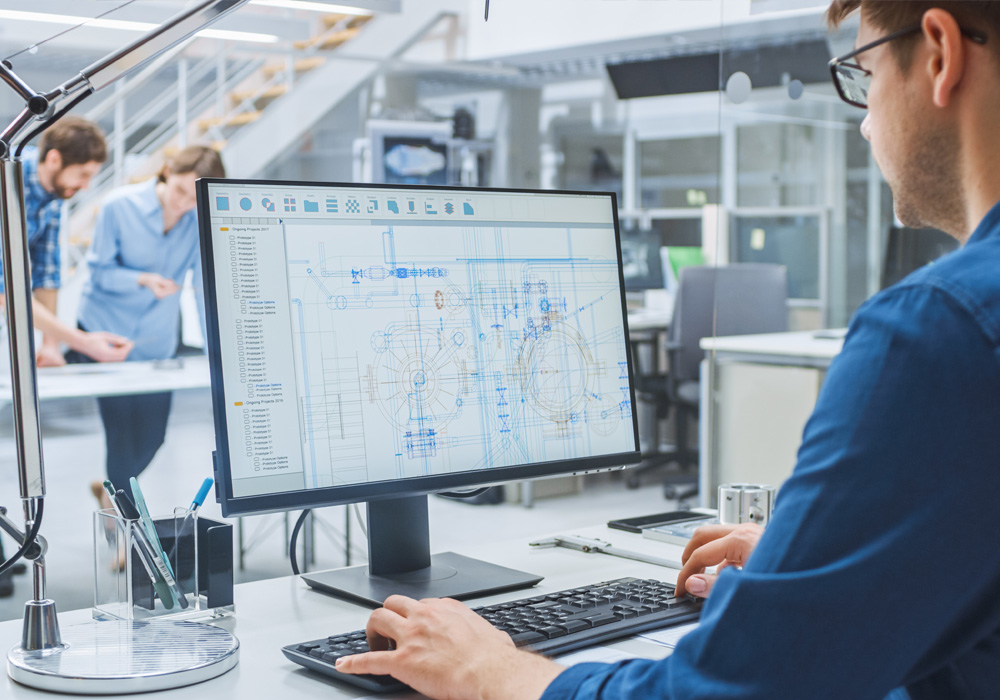 What is a CAD program used for?
A CAD program is used during the design of a product to create and edit 2D drawings or 3D models that accurately depict the product and its constituent components. The generated models and drawings are then used to support later tasks, such as analysis e.g. using simulation software, and subsequently for the manufacture and assembly of the individual components. A CAD program is often modular and provides specialised tool sets to perform individual tasks such as design analysis, calculation, simulation, 3D printing and manufacturing (e.g. CNC or Waterjet).
What are the advantages of a CAD program?
The great advantage of using a CAD program is the speed by which accurate, standards-compliant design drawings can be created. Design changes can also be quickly implemented, and orthogonal, sectional and perspective views are easy to produce. The ability to zoom in on large components, means that even the finest details of a product can be designed correctly and effectively.
CAD programs basically fall into three broad categories. These are 2D design, 3D modelling and 3D plant engineering.
Programs for creating two-dimensional CAD drawings and detailing them with dimensions, tables, images or notes. Can be extended by industry-specific modules.
Programs for the creation of three-dimensional CAD models, enabling better optimisation of components through different simulations or easier export for different manufacturing methods.
CAD programs for creating very large three-dimensional plans for factory planning and plant construction, in which the CAD models are linked to form complete plants.
2D CAD programs (2D design)
With 2D CAD programs, a design is created in the form of a 2D drawing depicting multiple orthogonal views of the design. A typical 2D drawing will usually contain front, top and end views of the design and may also contain sectional views to illustrate internal features of the design. Sometimes, oblique (non-orthogonal) views are added to detail very complex parts of the design. The drawing is created using various styles of line in accordance with international drawing standards. For example, thick lines for component outlines, thin lines for internal detail, and dotted lines for hidden detail.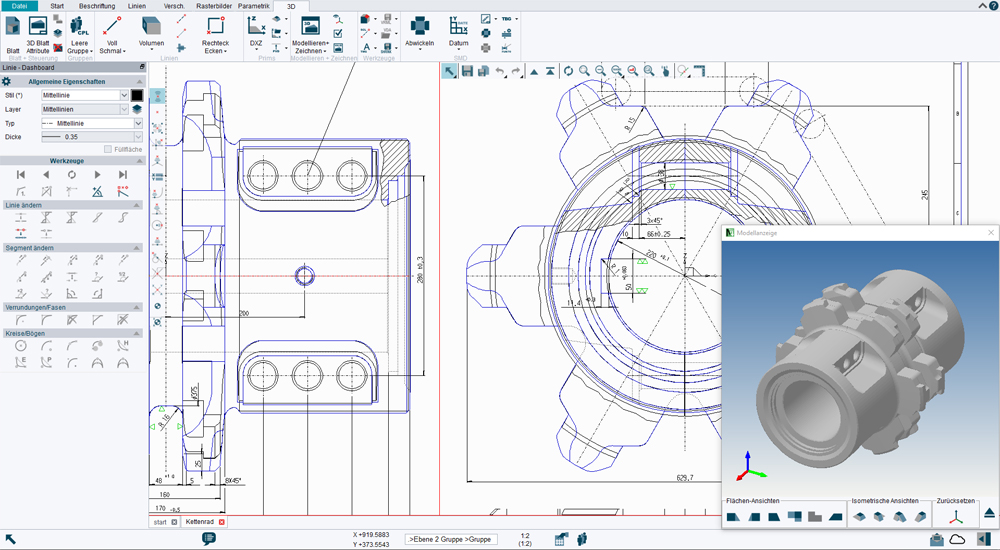 So that the drawing can be used for manufacturing purposes, the drawing will also show detailed dimensions, including manufacturing tolerances. Text notes may also be added to fully define the design. If the drawing depicts an assembly, the drawing will normally also include a table of the parts needed to make the assembly. Large designs may require more than one drawing to fully define them. Today's 2D CAD programs often have the option of parameterising 2D drawings. This means that an entire 2D drawing can be automatically created just by specifying the required dimensional sizes via adjustable parameters. To do this, however, a template drawing must first be created which has parameter-based dimensions, for example, L for length, H for height, OD for outside diameter etc.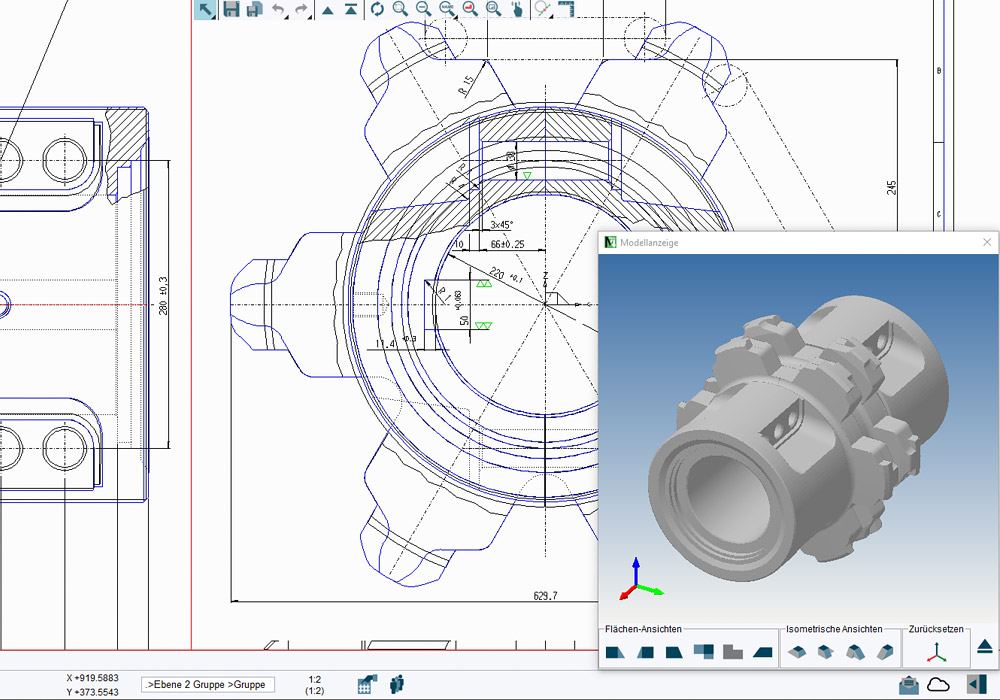 2D drawings offer the advantage that they can be printed on paper for a variety of uses. 2D drawings are saved as files, which can be quite compact, typically ranging in size from a few kilobytes to several megabytes. Each CAD program has its own proprietary file format, so to exchange 2D data between different CAD programs, standardised 2D data interface formats are also used. The two most common 2D interface formats are the DWG and DXF formats. One of the biggest advantages of a 2D CAD program over 3D CAD programs is productivity. 2D drawings can typically be produced very quickly even with a very high level of detail, whereas 3D CAD programs tend to slow down when processing large models and also require a powerful CPU with lots of memory. In contrast, the computers used for 2D design do not have to meet high processing specifications.
The freely available M4 PERSONAL 2D CAD program contains an extensive range of CAD functionality. The software is free for non-commercial use. However, if you wish to use the generated CAD drawings commercially, they can be converted into the popular DXF or PDF formats via an online service, which also authorises them for commercial use. Video tutorials are available for a quick introduction to this CAD program.
2D CAD program for companies
Companies need CAD programs that offer a high degree of automation and flexibility to suit their individual requirements. The M4 DRAFTING 2D CAD program is an intelligent CAD system that has an extensive range of functionality and modules. This software is specifically designed for professional use by companies, and offers extensive customisation capabilities to meet company-specific requirements. In addition, M4 DRAFTING customers gain access to comprehensive support and maintenance services, an English-speaking hotline, and also benefit from exclusive training offers.
3D CAD programs (3D modelling)
With 3D CAD programs, a design is created in the form of three-dimensional objects known as models. The models are produced at the required shape and size with the help of 3D modelling tools. 3D modelling provides a full-scale representation of the design. One of the biggest advantages of 3D CAD programs is that users from non-technical backgrounds can visualise designs much more realistically than with a conventional 2D drawing, which only shows individual views of the design.
As with 2D design, dimensions are also used to show the size of a 3D model. Of course, many other tools are also available with which models can be realistically created. There are modelling tools for almost every area of design. In addition to so-called direct modelling, in which models are created and adjusted manually, some CAD programs offer parametric modelling. This type of modelling is characterised by the input of dimensional values, and offers the advantage that adjustments to the model can be quickly made simply by changing dimension sizes.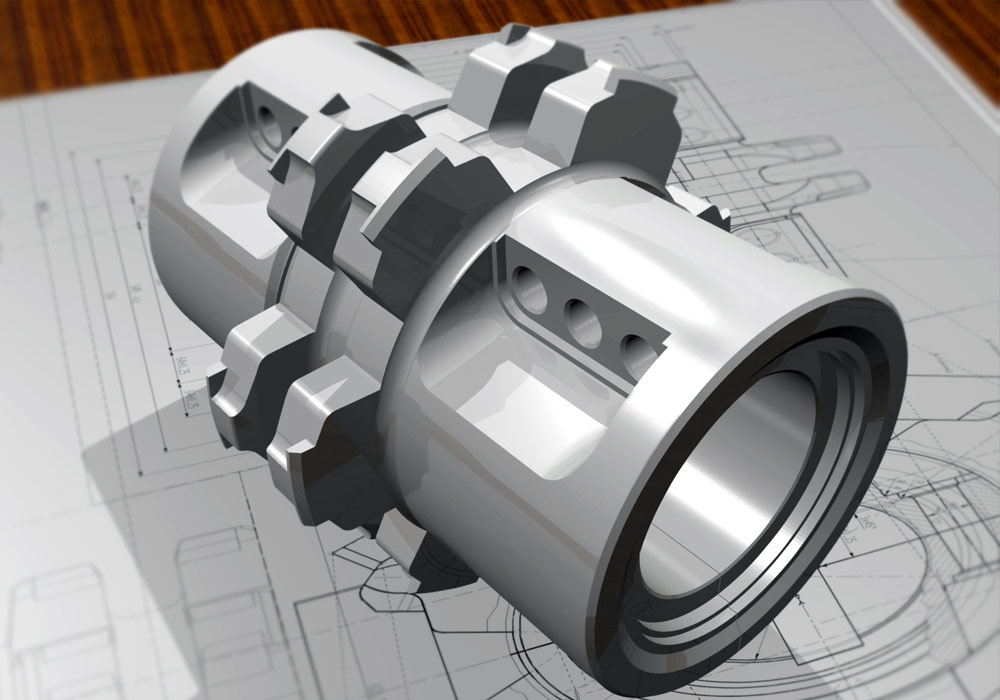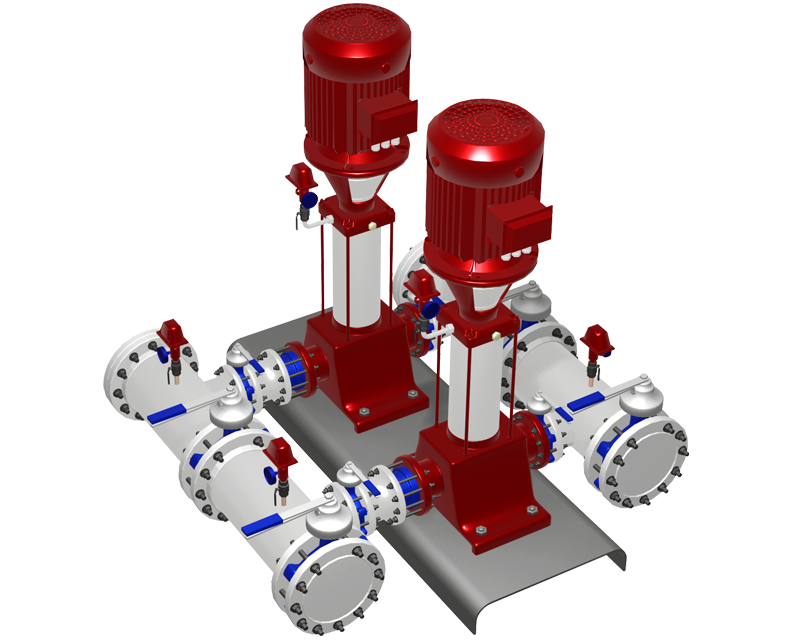 3D designs are saved by 3D CAD programs in the form of model files. Depending on the level of detail, these files can be very large, with the disk space used ranging from several megabytes to several terabytes. In order to reduce the storage space, many CAD programs save large models in the form of assemblies. In this case, the individual components are stored as relatively small model files on disk, and are referenced by the assembly model where required. This technique results in much smaller assembly models. When the entire assembly is opened in the CAD program, the individual component models are automatically loaded into the appropriate positions. Performance plays a very important role in the processing of 3D models. This is because detailed models, which also consist of a large number of components, require a lot of processing power and fast 3D graphics performance. For this reason, very high-performance computer hardware is often required. Even where 3D models can be handled more effectively through the use of assemblies, often performance problems subsequently arise during data exchange because assemblies are then output again as a single large model file e.g. as a STEP or DXF file.
The Creo Parametric CAD program from PTC offers a comprehensive range of 3D functionality even in the basic version. The software supports both parametric and direct modelling together with an extensive range of additional modules that can be used for almost any area of design, simulation and manufacturing. A free trial version of Creo Parametric is available for testing.
With 3D plant design systems, designs are also based on 3D component models, but unlike classic 3D CAD systems, the 3D models are not modelled directly, but are instead referenced by very large 3D designs of entire plants and factories. Most of the design work is achieved using pre-defined catalogues supplied with the system. These catalogues contain many standards-based components for plant design and factory layout applications. The catalogues are also parametric, i.e. the component model is automatically generated during loading at the required size.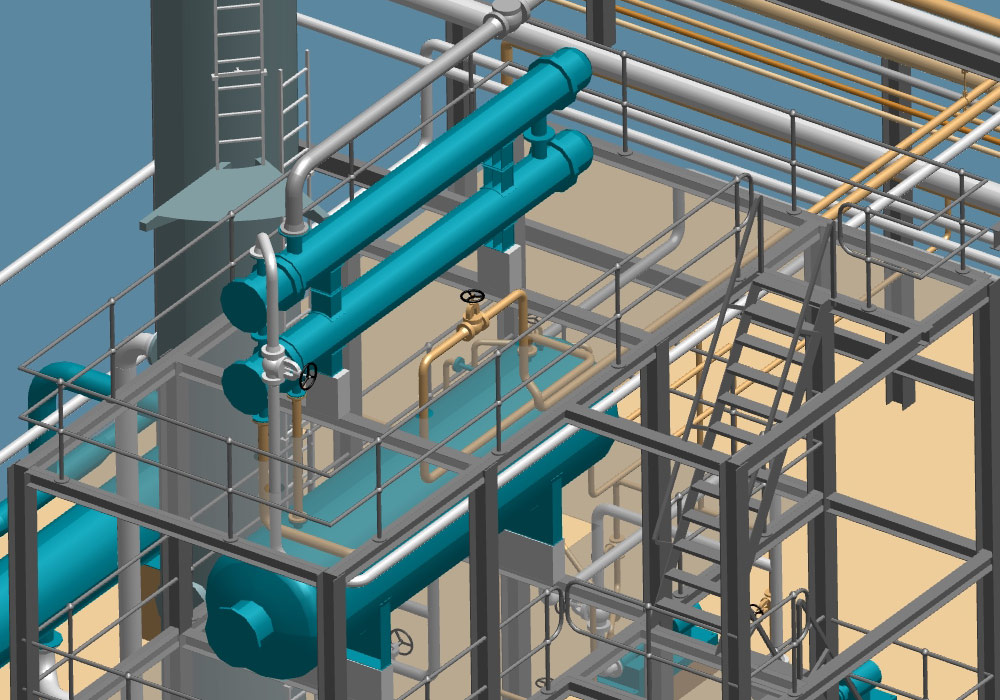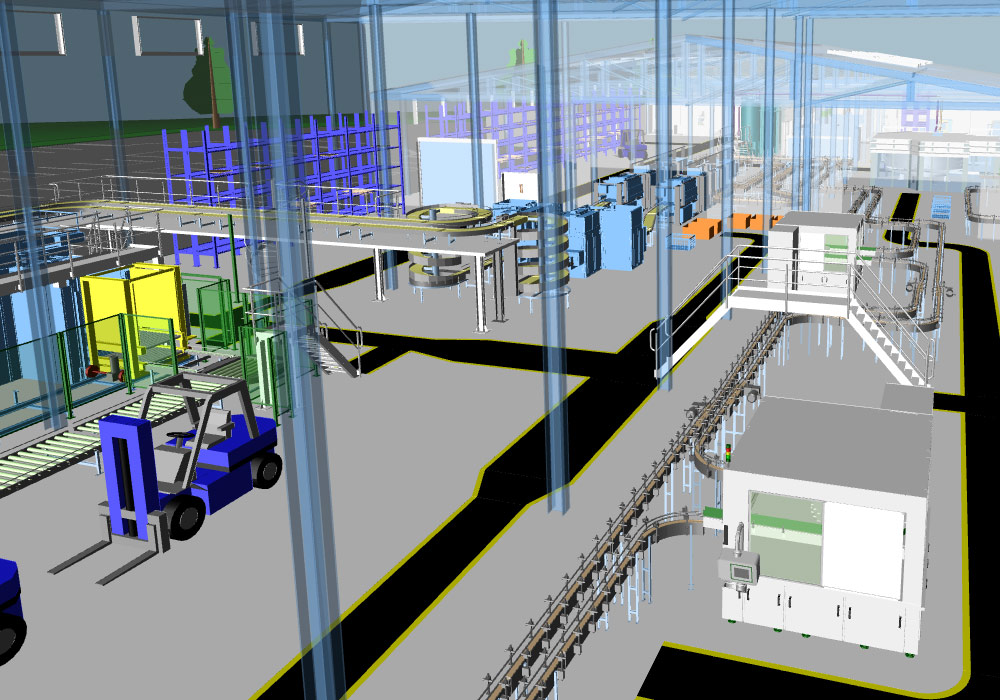 In addition to 3D design, these systems also support 2D-based layout. This is because the layout of plants or factories is often performed in 2D CAD for the performance reasons already mentioned. In a 3D plant design system, the 2D layout can still be prepared in the usual way, but the system then takes information from the 2D layout and uses it to automatically load associated 3D components into the 3D design. This means that users benefit from the advantages of fast, high-performance 2D layout, and at the same time, enjoy all the advantages of 3D modelling.
3D plant design programs also offer a wide range of detailing tools. These tools focus on detailing information in the design, such as component and system attributes, for example. This enables the system to process the design data for production and then export it in the form of parts lists or 2D drawings. The great advantage of this approach is that special types of document, such as piping isometric drawings and pipe bending tables, can be automatically generated.
Compared to ordinary CAD software, 3D plant design systems store each design in a project database rather than a very large assembly model file. The project database is managed by the system itself and can, for example, take the form of a file folder on disk, in which all the data associated with the project is then stored. The advantage here is the very high performance that this type of architecture offers, enabling extremely large designs to be created using regular computer hardware. If 3D models from other CAD systems need to be used in a design, they are simply referenced by the project database. In addition, catalogue components are not loaded as actual 3D models, but are displayed in 3D in real time on the basis of the information stored in the catalogues. Performance is of great importance in a 3D plant design system. To facilitate this, this type of CAD program provides specialised functionality to enable large designs to be produced efficiently. This starts with the architecture mentioned above. When a project is opened, the system does not directly load everything and display it on the screen. Instead, the user proactively decides what they want to work on. A zone, an assembly or a specific system can be selected and displayed in detail, rather than having the entire design always displayed. If the user wants to increase the performance level even more, individual models can be simplified during loading, or the models can be displayed using a lower level of detail.
3D Plant Design and Factory Layout Software
The M4 PLANT 3D plant design system offers a comprehensive range of functionality for large-scale design. The software offers packages for plant design, pipework design and factory layout. This makes it possible to quickly design a plant or factory. The quality of the design is assured using the included collision detection tools and extensive parts listing capabilities. In addition, the software offers extensive data exchange and visualisation capabilities.
FAQ – Frequently asked questions on the topic of CAD program
CAD programs bring considerable advantages for both companies and users. The use of a CAD system offers considerable time savings especially when making design changes or creating similar designs. Although the effectiveness of a CAD program is highly dependent on the application, they have proven their worth time and again, particularly for complex projects.