Proportion of Linux Users Up for the Free MEDUSA4 Personal CAD Suite
2014 showed big growth in the proportion of Linux users downloading CAD Schroer's free software, and Brazil has joined the top 10
Cambridge, UK and Pittsford, NY – 04 February 2015: After years of an increasing proportion of downloads for Windows, Linux is rallying among MEDUSA4 Personal users. The free CAD system is used by hobby and professional engineers in 165 countries (with a pay-per-result portal for commercial use).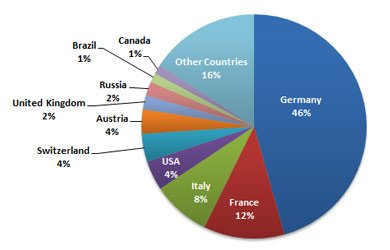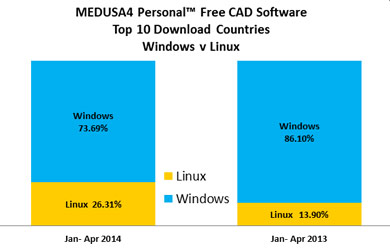 Professional Drafting Toolset on Linux
CAD Schroer has been comparing download statistics from January to April 2014 to the same period in 2013, and is pleased to see Linux on the rise again a period of decline. "Offering a professional drafting toolset on Linux as well as Windows has always been one of our differentiators," says Patrick Sernetz of CAD Schroer. "Almost 20% of our 2014 downloads so far were for Linux, up from 17.5% in 2013."
Linux Even Stronger Among Top 10
Among the top 10 download countries in the first quarter of 2014, 26.3% of users chose Linux, up from 13.9% in the same period from 2013. Countries that have seen an increase in the percentage of Linux users include Switzerland (up 48%), France (up 39%), Germany (up 18%), Brazil (up 12%), the United States (up 36%), Canada (up 16%) and Russia (up 18%).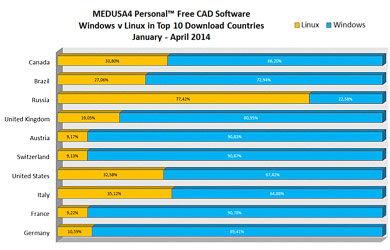 In the first four months of 2014, Brazil, with nearly a 60% increase in overall MEDUSA4 Personal downloads compared to 2013, replaced Belgium as part of the top 10 download countries. Brazil is known to be in huge need of engineers for its growing mining, oil and gas industries, as well as infrastructure and communications projects.
CAD Schroer's eSERVICES portal, recently relaunched to accommodate a growing number of services, enables designers to use their work commercially by converting drawings to PDF, DXF or the professional MEDUSA4 sheet format for a small fee , helping many people start a new business.
MEDUSA4 Personal includes extensive 2D drafting and editing tools, basic 3D, Parametrics, image integration, and a sheet metal design module, and is available in English, German, French, Italian or Japanese on Windows or Linux.