Keen CAD Cyclists Exceed School Charity's Expectations
Leading up to its 25th anniversary, CAD Schroer staff cycled 9,452 km to work, exceeding their goal by 95%
For every kilometre completed, the company pledged 50 cents. The resulting charity donation will provide an education for 157 Ethiopian children.
Cambridge, UK and Pittsford, NY – October 2011: In the 25 days leading up to its 25th anniversary, CAD Schroer staff cycled to work and to customers. For every kilometre completed, the company has now donated funds to the Ethiopian schools project of the charity Menschen für Menschen.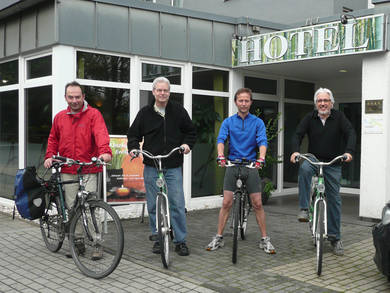 Menschen fuer Menschen: Integrated Development Projects in Africa
"What a fantastic result for this inspiring campaign," says Astrid Merkl of Menschen für Menschen a foundation set up to provide integrated development projects in Ethiopia. "It has exceeded all our expectations, and we are so pleased with the enthusiasm with which CAD Schroer staff and their families joined in. It's a great way to involve a whole community in providing a real future for 157 African children, while also raising environmental consciousness at home." A primary school education costs 30 Euros per child.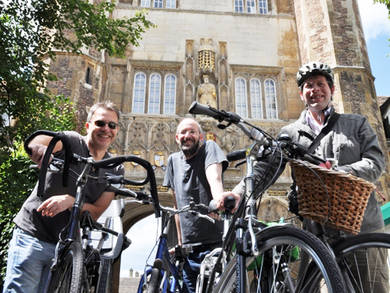 Leading up to CAD Schroer's anniversary party, many employees and their guests went on a final 4-hour cycle ride to the party location and back home again, with all the km counting towards the charity donation. "We inspired family members and business associates to get involved, find out more about the charity, and make donations of their own," says Gudrun Tebart of CAD Schroer Germany, who organised the entire 25-day event and the ensuing party, as well as contributing over 332 km with her own bike. Colleagues in the UK, Switzerland, Italy, France, the Benelux and the USA all did their bit.
Head of Training Markus Bertram practically became a company legend when he almost beat the 1,000 km mark. Most of his 962km were accrued while on a customer site in Denmark. Fellow sports enthusiasts who came in above or around the 500 km mark included Joerg Forwerk (629 km), Klaudia Boeving-Scott (510 km) and Claudia Jahnke (492 km), all at CAD Schroer Headquarters. "It was a tremendous team effort – I must say I'm extremely impressed ," says Managing Director Michael Schroer (336 km). "As we made clear during our company celebrations, the dedication of our employees has created our success. 25 years on, it is a privilege to be able to help those much less fortunate than us to gain the life skills they need to escape poverty."
The company donation will go to Menschen für Menschen, a foundation set up to provide integrated development projects in Ethiopia
"After this creative charity cycling campaign for our Ethiopian schools project, CAD Schroer's staff must be fitter than ever," Astrid Merkl concludes. "All of us at Menschen fuer Menschen say 'well done!' and we look forward to seeing how CAD Schroer will mark its 30th anniversary!"


Our story on the Menschen fuer Menschen website
The final donation: 4726,10 Euro (= primary school education for 157 children)