The Pay per Result Principle Explained in Detail
Innovative licensing model minimises CAD software costs for small companies
The principle of paying only for each completed design is becoming increasingly popular with small and medium-sized companies. Known as "Pay per Result", this proven licensing model is offered by CAD Schroer as a low-cost way to access and use its M4 Personal CAD software.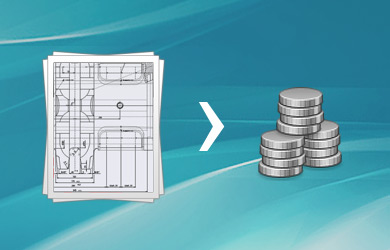 The Pay per Result Principle Explained in Detail
The Pay per Result principle was created in order to allow small and medium-sized companies to use professional 2D/3D CAD software for a fair price. The only costs incurred are for the results obtained through using the software rather than for the software itself. In other words, an individual only pays when they have produced a result using the software. All they need to do in order to obtain a fully adequate, commercially viable drawing is to convert their drawing into PDF or DXF format using CAD Schroer's eSERVICES Portal.

Free and Professional – Do These Go Together?
"When it comes to free software, people are usually sceptical at first because they tend to think that it's only semi-professional," said Gudrun Tebart from CAD Schroer. "This doesn't apply to M4. After all, the software is used professionally by companies and institutions around the world for construction and planning purposes. The only difference is that it's packaged differently. In addition, many of our customers have adapted the software according to their requirements and have created versatile, sector-specific functions," added Tebart. In this case, CAD Schroer offers the software in a fixed package for private use (M4 Personal) without the option of adapting it or writing personalised functions or macros. As far as the licensing conditions are concerned, commercial use of the M4 Personal package is only allowed if users pay to have their drawings converted.
Unlocking Drawings for Commercial Use
Drawings produced using M4 Personal may not be used commercially. They therefore feature a watermark with corresponding information. However, the drawings can be used commercially if they are converted via the eSERVICES Portal. In order to use the portal, an account is needed. This can be set up very quickly and free of charge by each user. After logging in, the user uploads a finished drawing and converts it. A PDF conversion costs €2.99, while a DXF conversion costs €4.99. The price of individual conversions is reduced if the user purchases a conversion package. Payment can be made via PayPal or using a credit card. After the conversion, the user is sent a bill for their conversion job and the converted data are available for download from the user's private account.
Clear Cost Estimates During Project Planning
Using M4 Personal in combination with the eSERVICES Portal means that there is no need to invest in professional software up front. As a result, software costs remain clear and easy to calculate, especially during project planning.
The Easy Way to Control Costs
The use of M4 Personal together with CAD Schroer's eSERVICES Portal allows companies to convert their finished drawings for commercial use. No costs are incurred until then. A fully itemised breakdown of conversion fees is provided per project enabling costs to be accurately tracked for each project. This innovative approach completely avoids the typically high cost of software licenses and subscription fees normally associated with the use of professional CAD software.