Innovative technologies for sales
Thanks to new technologies, companies have many possibilities to present their products to prospective customers in an innovative way.
Cambridge, UK and Pittsford, NY – 13 December 2022: Among the most rapidly growing innovations are AR and VR technologies, which enable you to partly or even completely immerse yourself in virtual worlds. Products become tangible and entire plants can be walked through. In this article, we reveal the new opportunities these technologies offer to companies.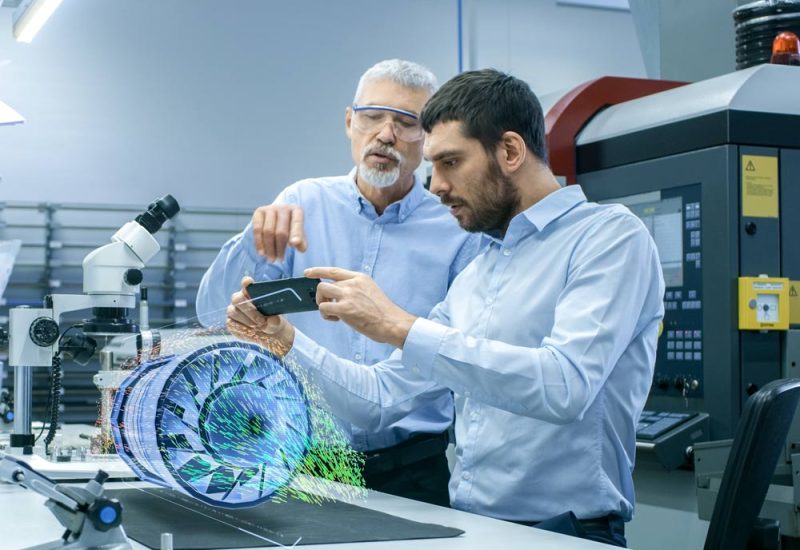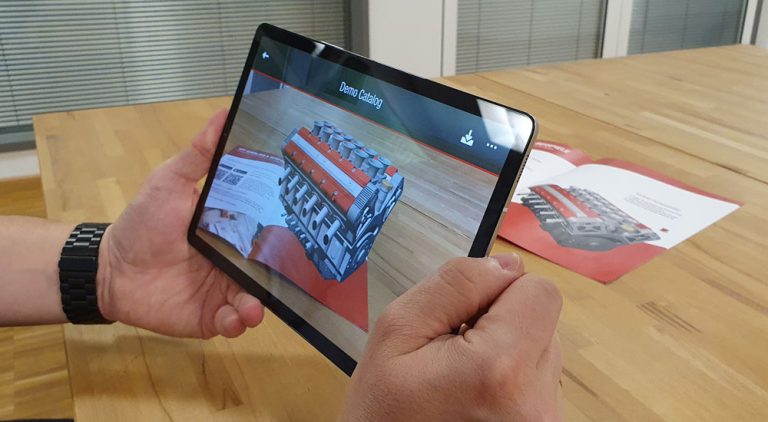 What is AR (Augmented Reality)?
Augmented reality (AR) involves the interaction between the analogue and digital worlds. AR can address all human senses and usually works via special glasses. In many cases, however, augmented reality can simply be used with a tablet or smartphone, which most customers already have.
The advantages of augmented reality
The entry level for AR is very low, as is its degree of virtuality. In view of this, the technology is already commonplace in many areas of everyday life, particularly for simple applications. Nevertheless, it often gains too little attention in sales and therefore valuable opportunities remain untapped. Those who specifically opt to utilise AR technologies can bring their own products closer to their customers and present them in a very lifelike way.
What is VR (Virtual Reality)?
With "Virtual Reality" (VR), users are completely immersed in a simulated digital world. The real world is not involved because the user sees only the simulated world. This often requires a special computer and graphics card as well as suitable VR glasses.
How it works: A digital 3D environment is simulated by a PC running suitable software which is then presented to the user via VR glasses. The VR glasses have two monitors (one for each eye) to achieve the largest possible field of vision for the user.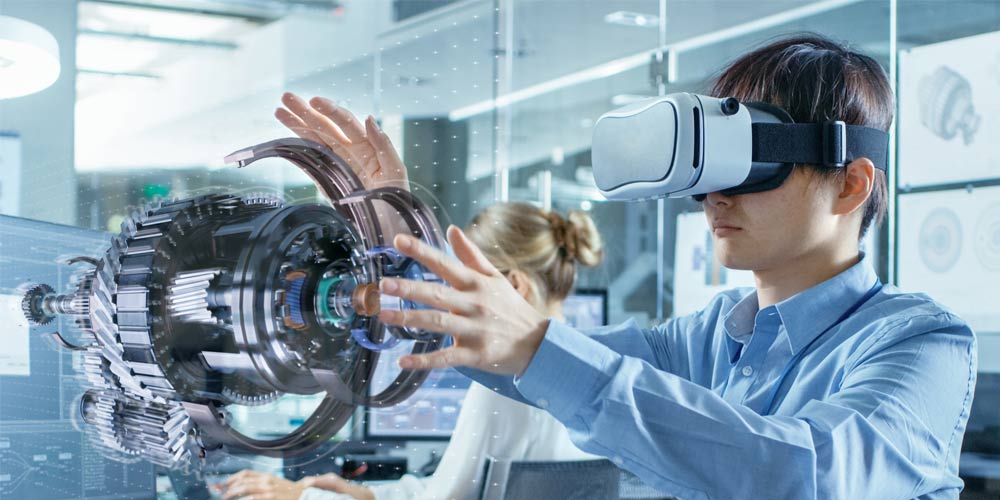 The benefits of "virtual reality"
Customers are completely immersed in virtual worlds (immersion) and experience facilities and events very realistically. All senses can be addressed. VR software solutions offer a wide range of functionality ranging from the review of product models to online meetings in VR (e.g. inside digital models of factories or plants).
A room and the user's position in it are recognised via tracking. In addition, several users can be in a virtual place at the same time and interact with each other. Thanks to integrated surface recognition, digital objects can be precisely placed on surfaces, including product videos. Image and object recognition enables targeted interaction. These can be images or 3D objects.
Various tracking functions can be used to display further information on machines, providing the customer with additional information. Furthermore, the 3D models can be animated and interacted with. For example, to show how a plant or a product works. Cross-sectional views are also possible without having to cut open the product in reality.
AR-VR possibilities:
Tracking
Area detection
Image/object recognition
Text recognition
Interaction/ Animation
Immersion
Multi-user
Advantages of digitalisation for sales
Fast, global route to customers
New communication channels and methods
Highlight products through innovative technologies
What technologies are available for sales?
The types of media use by companies for sales have multiplied. In addition to classic communication via letter, telephone and e-mail, there are nowadays more innovative means of communication that enable companies to stand out from the competition. Tablets and smartphones have been used by companies for quite some time. VR (Virtual Reality) and AR (Augmented Reality) are newer technologies which utilise special glasses to immerse the user directly in the action.
In practice, this means that sales can communicate with customers via text, sound, video, the web and in 3D (AR/ VR). The newer the technologies are, the greater the opportunities for companies to use them innovatively for sales.
Targeted use of technologies in the customer journey
The first and most important step is to awaken the customers' needs. Events, websites, newsletters, social media and video portals serve this purpose. Once customer interest has been piqued, the next step is to provide information about the products on offer. With product pages, data sheets, product videos, online presentations, apps and live demonstrations, companies market their products and services in a targeted manner and provide the customer with relevant information.
In order for companies to stand out from the competition, innovative new technologies are used. These can be, for example, 3D webinars in virtual rooms or impressive VR/AR Apps to present product models. VR/AR technologies are also increasingly being used at events. Online 3D configurators can be used to design entire products and systems.
3D webinars (events / presentations in virtual rooms)
VR/AR apps with product models for product presentation
Using VR/AR at events
Integrated 3D configurators
With the help of virtual rooms, customers are immersed directly in the action. Companies can design their own rooms and populate them with models of their products. Participants appear as avatars and can see and interact with each other. Audio communication is also possible. Presentations and product demonstrations can be delivered using videos. 3D webinars can be realised on different types of device, such as a PC, smartphone or tablet. Customers can also completely immerse themselves with VR glasses for a full virtual reality experience.
AR apps are ideally suited for product presentations to customers. For this purpose, a tablet equipped with a suitable AR app is taken to a customer meeting. This enables a  product to be digitally placed and viewed in the real world without it actually having to be there. Nevertheless, the customer can view the product from all sides and even disassemble it if necessary.
CAD models are exported to FBX format ready for presentation via an AR app.
The possibilities to present products using AR go far beyond simple 3D views of a product. For example, product animations can be used to show the customer precisely how a product works. Cross-sectional views of a product can also be used to see inside a product.
AR apps are used for innovative, comprehensive presentations of a company's products. The apps are available in app stores under the company's name and serve as a product catalogue that potential customers can access at any time.
VR/AR technologies at trade fairs
Companies can also immerse their customers in virtual worlds at trade fairs and events. VR/AR technologies in particular attract customer attention and offer enormous added value. Products are presented in a very innovative way, ensuring that the company is sure to be remembered long after the show is over.
With the help of augmented reality, it is also possible to see inside a product using a smartphone or tablet. For this purpose, an AR app is created specifically for the product to showcase its various modes of operation.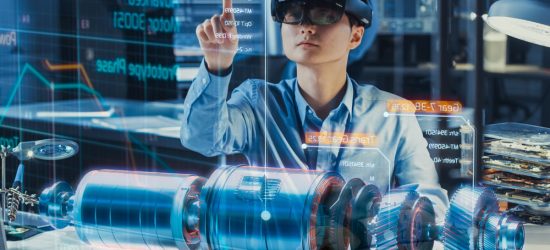 Once the customer's interest has been piqued, the next step is to create an incentive to buy. Automated offers via configurators and integrated online shops serve this purpose. A "buy" button in an app also supports the incentive to buy.
With a view to new technologies
Companies have the option of having products and systems digitally configured. It is also possible to present the product or system directly to the customer via AR so that it can be placed and viewed in its intended location in the real world. Consultations in virtual rooms are an equally effective method. Companies can present entire product experiences in virtual reality.
Worth knowing: Entire product catalogues can also be linked to AR technology. This enables the customer to peruse a paper catalogue and then call up a specific catalogue item in AR to see if it fits their requirements in the real world. The catalogues do not have to be in paper form – websites and similar platforms are also suitable.
Integrated 3D configurators
When considering product catalogues, many options are available to make products clearer and more attractive. So-called 3D configurators make it possible to configure products and even build entire systems. This gives the customer the opportunity to design exactly what he needs for his project. Moreover, the design is always tangible, which creates new incentives to buy.
Tip: 3D configurators can also be used to send automated quotations to the customer. Parts lists are generated during the design process, which are subsequently used to prepare the quotations. CAD drawings, 3D views and design calculations can also be automatically produced and sent to the customer.
Virtual meeting after product design
After the product has been designed, it is possible to immerse yourself in a virtual meeting with the customer to view and discuss the design together. To facilitate this, the product model is converted to FBX format so that it can be walked through in the virtual meeting room.
Using a tablet, computer, glasses or smartphone, the customer has the opportunity to look around, talk to the salesperson and provide feedback.
Customer satisfaction plays a crucial role. The new technologies can also be used to support customers. Integrated applications in the form of cloud services with easy access to expert knowledge are suitable for this.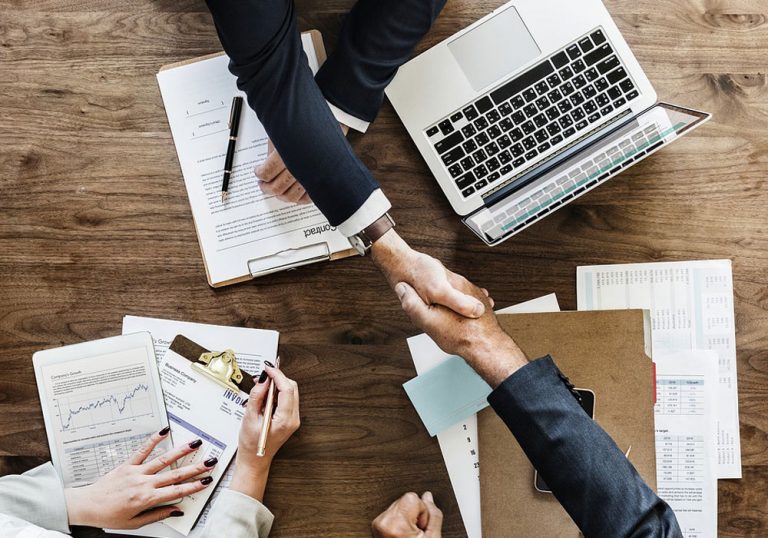 Increasing customer satisfaction with new technologies
Um die Kundenzufriedenheit gezielt zu steigern, bieten AR-Technologien attraktive Möglichkeiten. Hierzu zählen unter anderem AR Service-Apps mit kontextsensitiven Anleitungen. Es entsteht eine völlig neue Art der Mensch-Maschine-Schnittstelle. Zudem wird ein virtuelles Lernen ermöglicht. Aber auch das Remote-Expertenwissen ist häufig gefragt. Hierzu wird eine Fachperson direkt hinzugeschaltet und steht mit Rat und Tat zur Seite.
In der Praxis könnten an Maschinen beispielsweise QR-Codes an bestimmten Stellen angebracht werden. Mithilfe von einem Smartphone oder Tablet haben z.B. Service-Mitarbeiter die Möglichkeit, Anleitungen aufzurufen. Diese könnten mittels Animationen erklären, wie bestimmte Bauteile an dem Produkt beziehungsweise an der Anlage ausgewechselt werden können.
Thanks to the new technologies, companies have the opportunity to inspire and attract customers far more than with traditional sales and marketing approaches alone. This includes the use of AR/VR technologies at events, in social media campaigns, and also to optimally present their own products.
Feedback forms, chats and other content can be integrated into AR apps. Recommendation via social media is also possible. Captivating product experiences can be created with AR/VR technologies which are viewed and subsequently shared.
How companies get started with AR/VR technologies
To be able to offer their customers a comprehensive AR/VR experience, companies first need to experience these new technologies for themselves. Free AR apps provide a good first impression using just a tablet or smartphone. Furthermore, online virtual meeting rooms can be visited via tablet, smartphone or computer. VR glasses can also be used to achieve complete immersion in the virtual world.
Tip: CAD Schroer has many AR/VR examples prepared for its customers and is available for advice.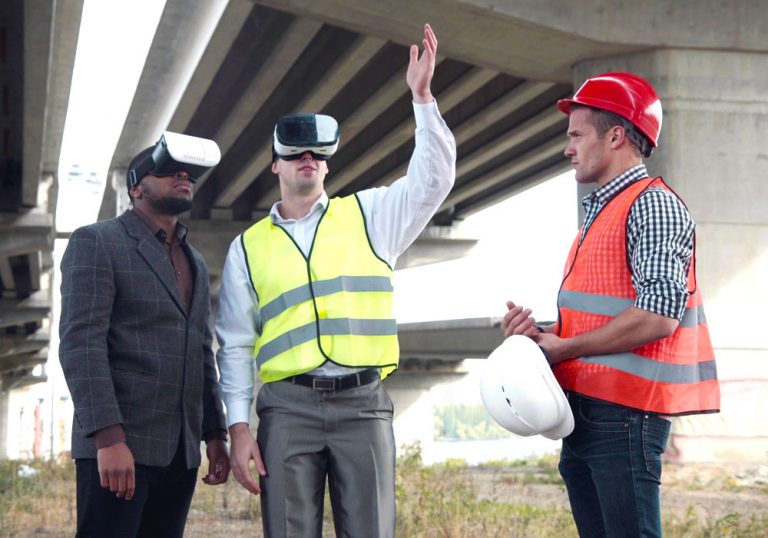 The first step on the AR journey
Customers receive a link to the i4 AUGMENTED REVIEW app, which can be used to take the first steps in AR. The app supports iOS and Android and can be used free of charge for models up to 4 MB. CAD models can be loaded as FBX or OBJ files. If you have any questions, CAD Schroer will be happy to advise you. They can also prepare models for companies that do not have their own. Example models are included with the app. Links, videos and PDFs can also be linked to models.
The next step is for companies to experience VR technology through online virtual meeting rooms in which they can immerse themselves with their customers to evaluate designs. With the help of i4 MEETING, companies can prepare meeting rooms using their own 3D models, or they can have rooms prepared for them if preferred. Participation in a meeting is easy via computer, tablet, smartphone or VR glasses. The meeting rooms can contain realistic videos, models, documents and much more. This is an extremely innovative way to communicate with customers who can participate from anywhere in the world.
The third step – a free consultation
Companies can obtain free advice from CAD Schroer's i4 Solutions team, which is on-hand to help with advice and support. Each company's requirements are assessed and suitable innovative technologies are then proposed.
Virtual meeting rooms, online product presentations, and state-of-the-art AR/VR technologies at trade fairs and other events – all these things are innovative and attract customer attention. CAD Schroer offers comprehensive solutions and consultations to facilitate your first steps into the new technologies.