Overview of i4 MEETING functionality
i4 MEETING offers an extensive range of functionality for meetings in virtual reality (VR). Of course, you can also request individual enhancements, which we will be happy to implement as a custom project for you. Simply contact us if you would like to learn more about i4 MEETING's capabilities.
Whenever you start i4 MEETING, the Username & Avatar page appears. Here you can specify a username that will be displayed to everyone else in the meeting. You can also choose an avatar to represent you in the meeting. For each meeting, the username and avatar can be freely specified by each user. They can also be changed during a meeting. This allows each meeting participant to freely control their appearance and username in the meeting.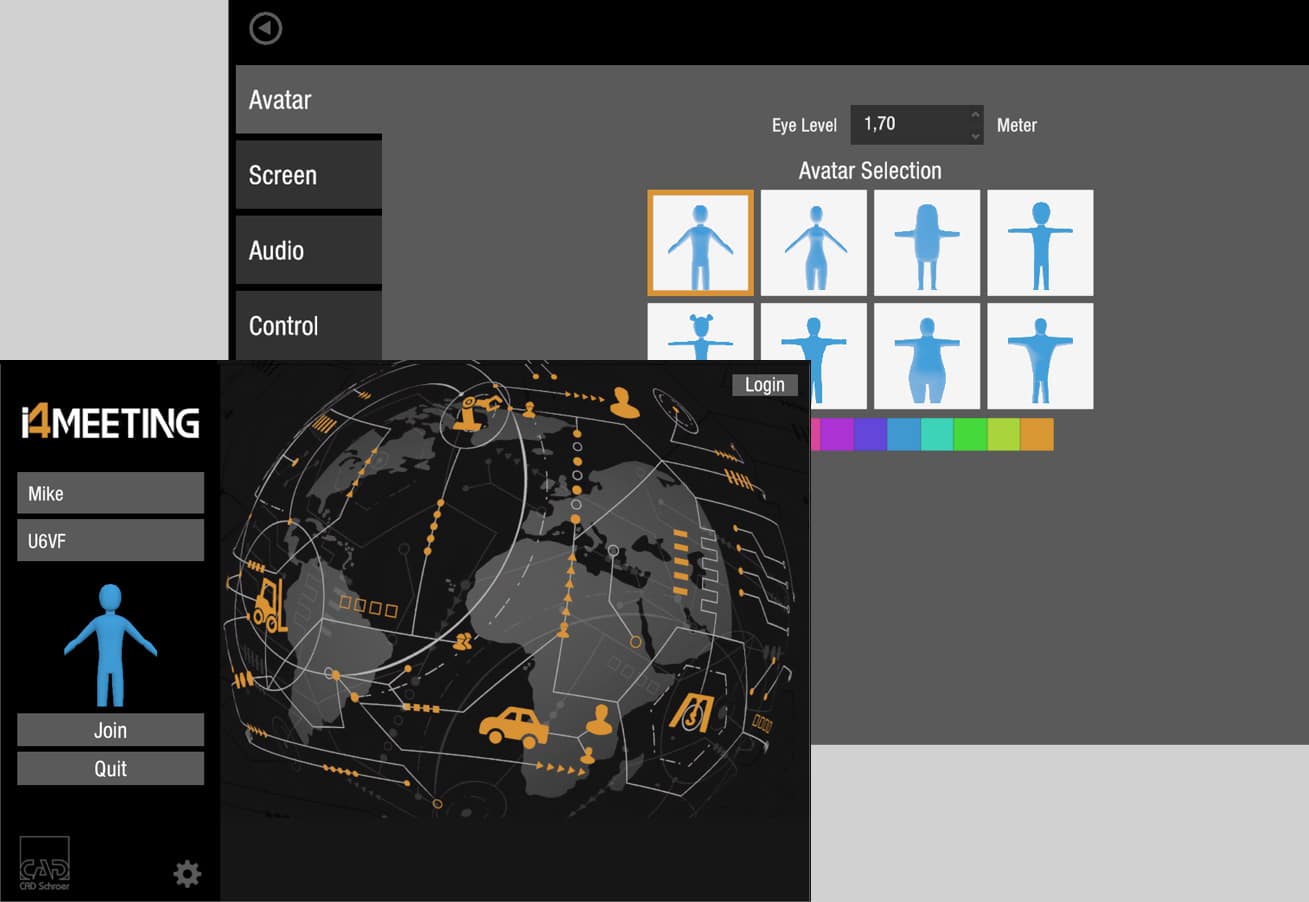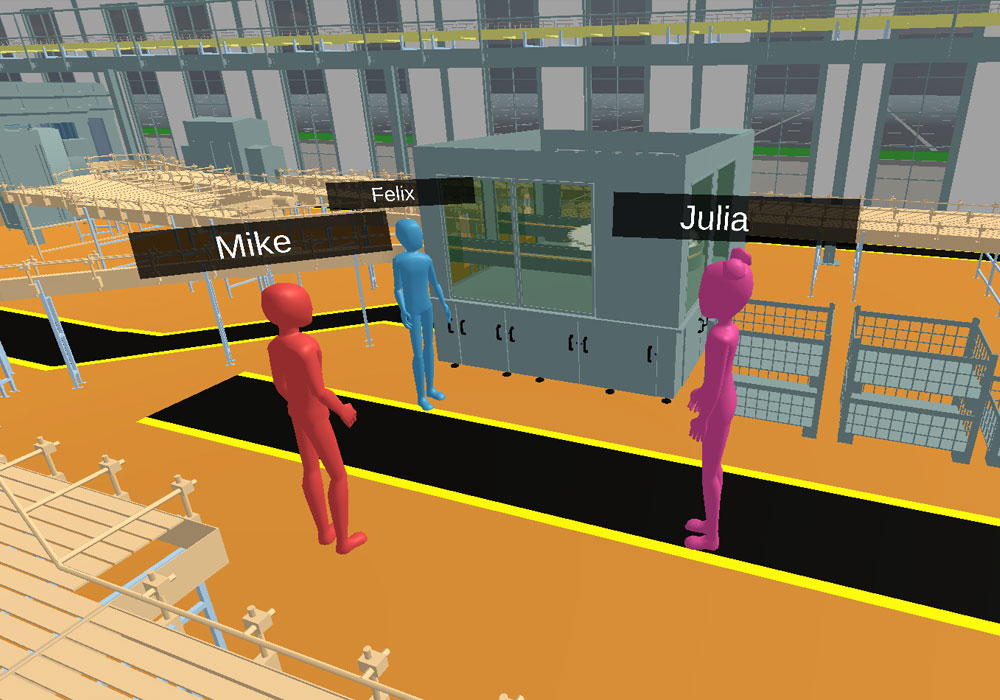 Move freely in virtual space
All users can move freely in the VR world created for the VR meeting, and when doing so, they appear in the form of their avatar to other meeting participants. When using VR glasses, the VR controllers supplied with the VR glasses are used to control movement. When using a touch-screen tablet or smartphone, movement is controlled with touch gestures. When using a PC, movement is controlled with the PC mouse and keyboard.
For each meeting, you can specify whether audio communication is enabled. If audio is enabled for a meeting, all participants can talk to each other during the meeting. Audio communication increases the level of immersion experienced and also facilitates the discussion of ideas, problems, solutions, and project progress, for example. Audio transmission is achieved via the Internet. The audio hardware is simply the speakers and microphone available to i4 MEETING through the user's device.
For example, in the case of a tablet, the tablet's speakers and microphone are used, and in the case of a PC, an audio headset connected to the PC would be used.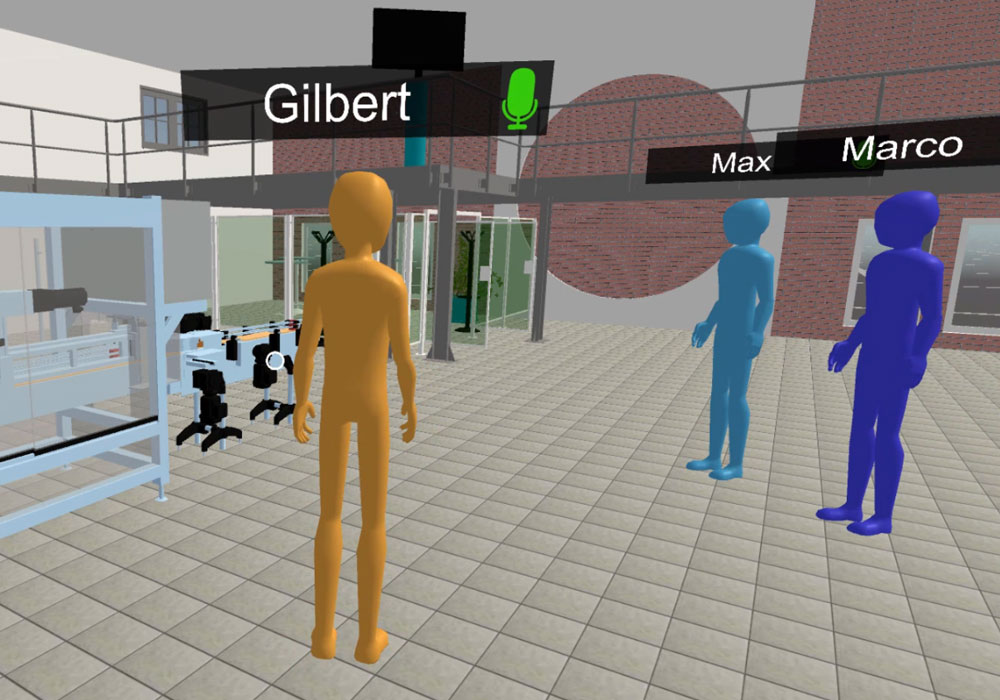 For even greater immersion, i4 MEETING now uses 3D sound. This makes it possible to hear the speaker's voice from the corresponding direction. And just like in the real world, the volume of the voice decreases the further away you are from the speaker. For presentations, there is also the option to make your own voice clearly audible to everyone. The 3D sound can be used for conversations as well as for videos played in i4 MEETING.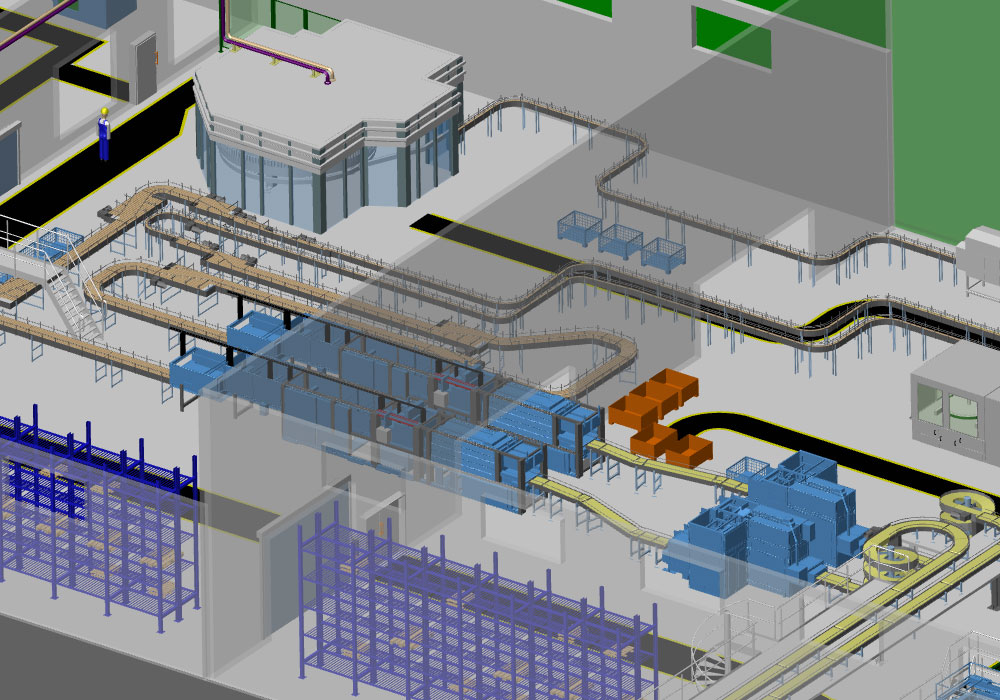 Design your own VR worlds
Every VR meeting you set up with i4 MEETING takes place in a VR world which can be designed using your own 3D models. Since your VR world for the meeting is not limited in size, you can design extensive VR worlds of any size.
Upload your own 3D models
You can upload your own 3D models for use in your VR worlds. Each model can be place into one or more VR worlds, ready for presentation during meetings e.g. to a project team or a customer.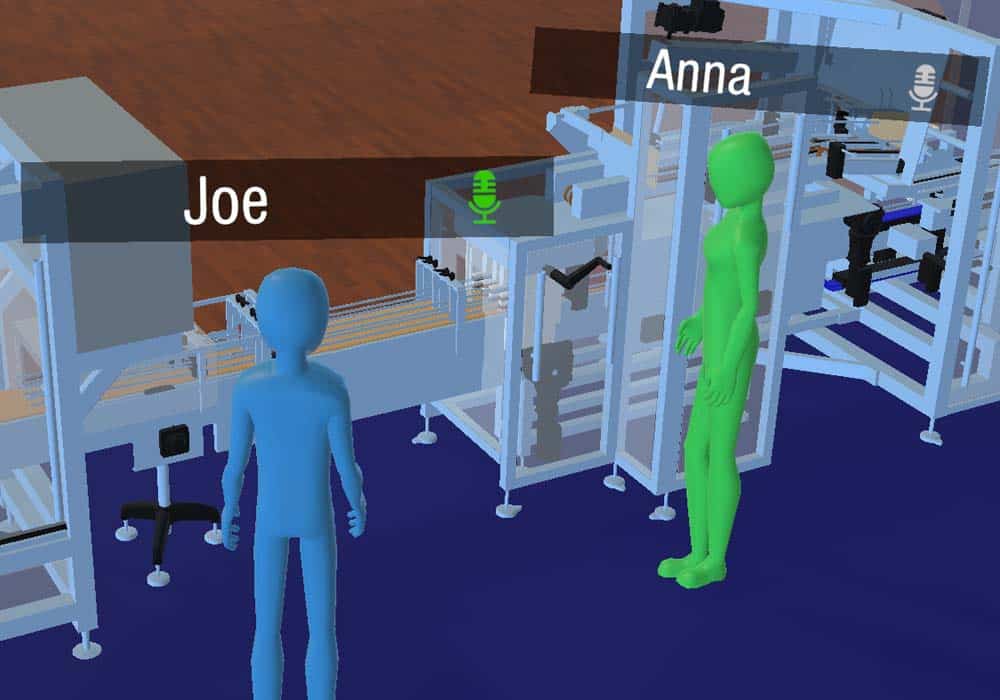 New: Web-based console for administrators
To simplify the administration of meetings, a new web-based console is also released with the new version of i4 MEETING. Meeting administrators can access the same functionality that was provided with the previous console program, but thanks to the web-based interface, meeting administration can now be performed worldwide and in a device-independent way, simply by using a standard web-browser to access the new console.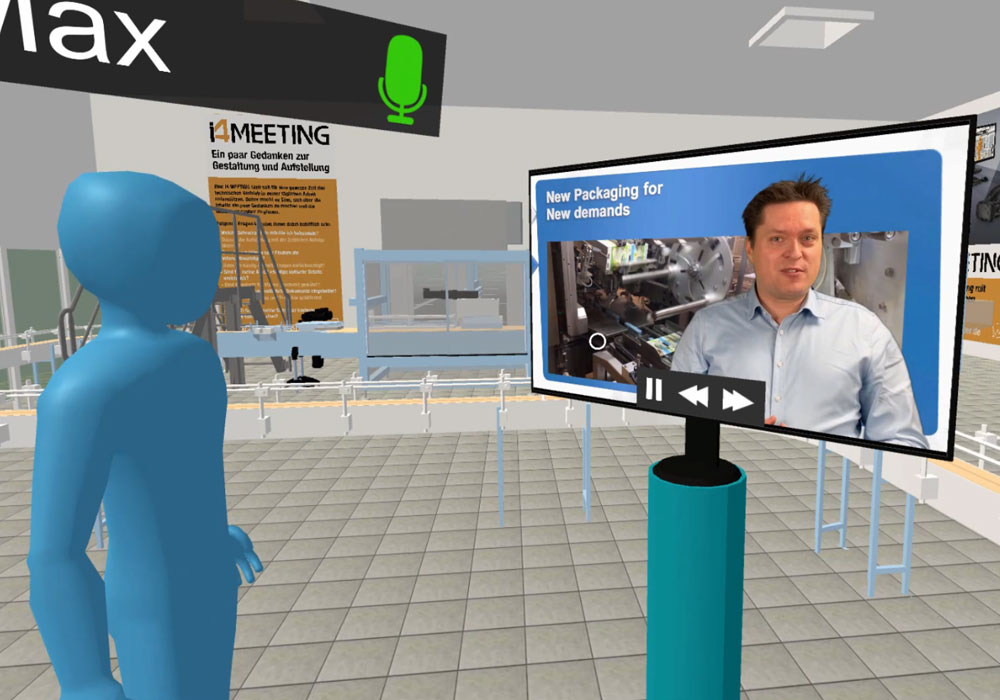 In addition to 3D models, images and videos can also be placed at predefined positions in a VR world. During meetings, images can be individually viewed full-screen or in the form of an image gallery. Videos are played together with their audio.
Presenting videos and image galleries to all participants simultaneously
With i4 MEETING, videos and image galleries can also be presented to all meeting participants simultaneously in virtual reality. When presenting in this way, video playback starts at the same time for all participants, and fast-forwarding a video jumps to the same point in time. If one participant pauses a video, the playback is also paused for everyone else. When presenting image galleries, all participants see the same image at the same time.
Open any type of document
In addition to images and videos, any other type of document or web link can be displayed from a VR meeting. The documents and web-links are opened using either a browser or suitable 3rd party application pre-installed on the device. This means that PDF documents, links to contact forms and any other type of file can be displayed directly from a VR meeting.
Different versions of documents
Videos, documents, files and images can be offered in different versions. This is useful for example, for product-specific information, or where files in multiple languages are used. Before opening a video or a file, the user is asked which version of the file they would like to view.
Additional functionality for presenters
Registered users with their own account receive additional functionality that makes it easier for them to present during an i4 MEETING. For example, videos and image galleries can be controlled for all users at the same time, creating a unified experience in the meeting. In addition, all participants can be gathered to the same location.
In i4 MEETING, text messages can be sent to all participants within a meeting. Sent messages are prominently displayed in the field of view of all meeting participants. This enables all meeting participants to be easily alerted during meetings.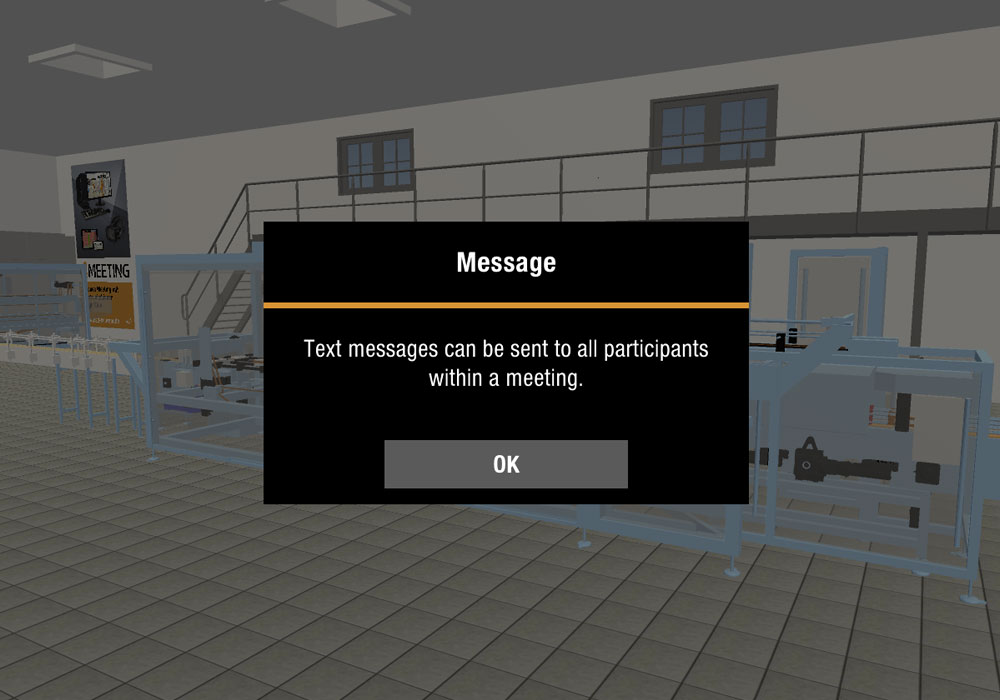 In addition to the possibility of talking to each other directly in a meeting, meeting participants can now use text-based chat. Here, for example, questions can be asked, and information exchanged. This offers users even more possibilities and improves communication in a VR meeting.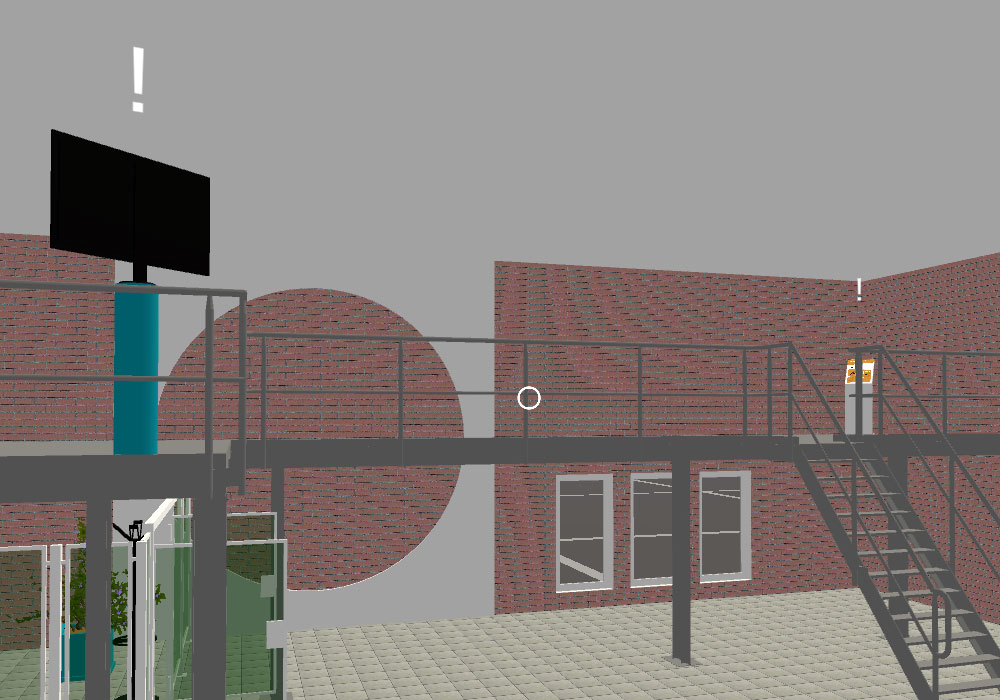 In i4 MEETING, points of interest (POIs) can be defined for a meeting. This makes it quick and easy for participants to move between different locations in the VR world. The administrator defines the POIs, which are typically placed at important locations in the VR world, to which the meeting participants can then teleport. The first POI is used as the participant entry point for the meeting. With this functionality, not only can the entry point for a meeting be easily defined, but the participants can also teleport freely to important POIs during a meeting.
Simple menu for all functionality
The i4 MEETING clients have an easy-to-use menu for the most important functionality. The meeting organiser also receives additional functionality that simplifies the presentation and administration of meetings.
The selection tool provided in i4 MEETING enables individual objects in the VR world to be interactively selected. Selected objects appear highlighted in red. If a model has structure then the constituent parts of the model can also be individually selected. The selection can then be further extended or reduced. When making a selection, the user can also decide whether only they see the selection or whether everyone in the meeting sees the selection. With this new feature, the attention of meeting participants can easily be drawn to selected objects, making it easier to discuss specific topics during project reviews and product presentations.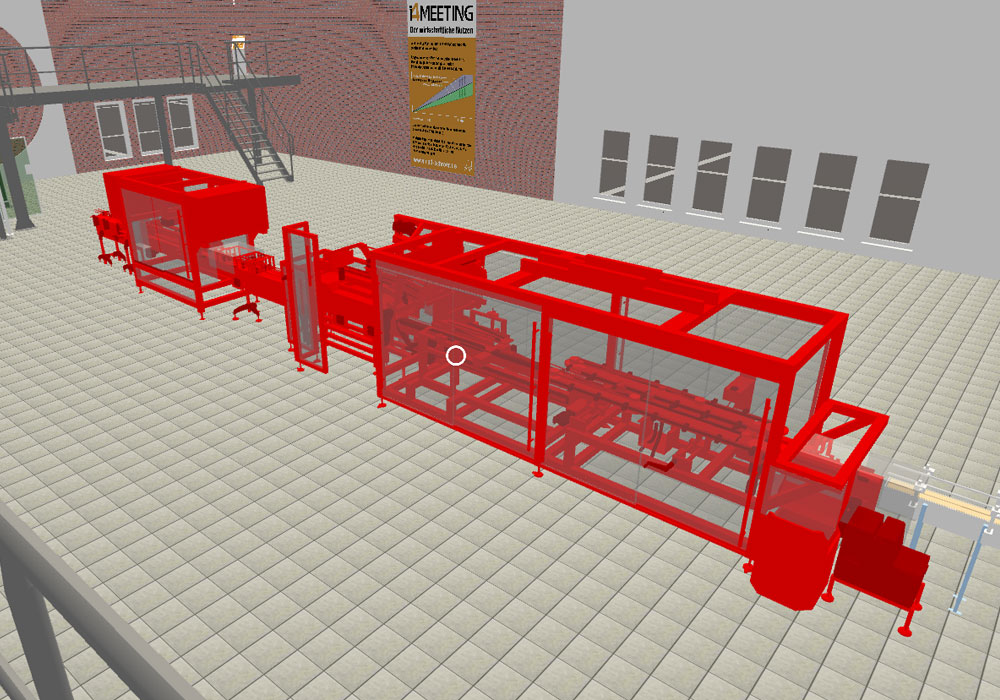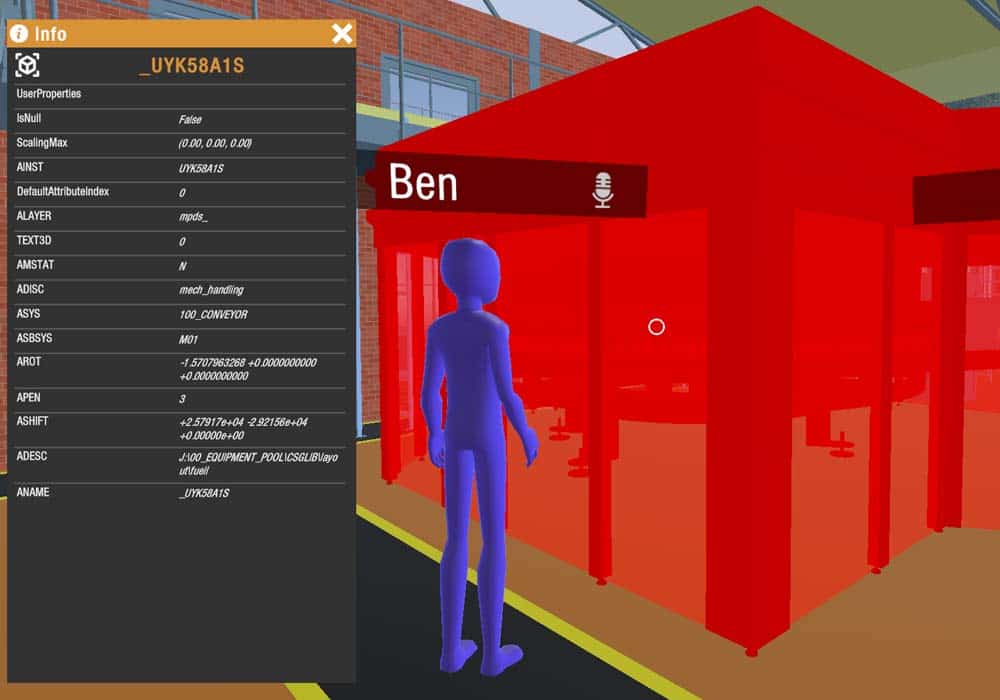 Meeting participants can view additional information about the individual 3D models in a VR world, such as the attribute information contained in the model files. With this feature, all participants can view all of the information associated with a 3D model.
Meeting access via a web link
For each meeting, an invitation can be sent to participants in the form of a simple web link. The meeting ID and, if required, the password, can be forwarded in the link.
Additional functionality on request
Since i4 MEETING is a very flexible solution for VR meetings, customer-specific requirements can also be catered for. Just contact us if you would like to have additional features added to i4 MEETING.