CAD Schroer Partners with SOFTECH Software & Technology to Bring Powerful, Integrated Drafting Support to Pro/ENGINEER® Customers in Italy
Moers, Germany and Milan, Italy – 27 June 2007: CAD Schroer Group (CSG), the global engineering solutions provider, and PTC® European Software Partner of the Year, today welcomed a new reseller in Italy, focusing on STHENO/PRO, the legacy data management and drafting solution fully integrated with Pro/ENGINEER, Pro/INTRALINK® and Windchill PDMLink™.
CSG, known for its MEDUSA4™ and STHENO/PRO™ MCAD software suites, has a strong international presence with offices in Germany, Switzerland, France, the United Kingdom, Italy, and the United States. "Offering local, friendly, and technically competent advice to our customers has always been our fundamental strength," says Michael Schroer, founding Director of the company that has grown from strength to strength since its beginnings as a CAD-based engineering services provider in 1986.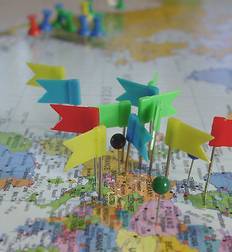 New Partners in Key Locations
Its extensive reseller network, which subscribes to the same ethos, already covers much of the globe, but there is plenty of room for growth in specific countries and market niches. "Our latest partner drive focuses on suppliers to Pro/ENGINEER® customers, who recognise STHENO/PRO as an unrivalled solution", says Marco Destefani, Head of CSG's Italian office in Bollate, Milan. "This month we are pleased to welcome SOFTECH, a PTC Gold Level Authorized Reseller."
About SOFTECH

Established by Angelo Corti and Luca Dessardo in 1994, SOFTECH, located in Milan and Rome, Italy, today has a team of eight technical experts with over 300 customers, offering CAD/CAM/CAE and PLM solutions all around the PTC product range, as well as providing certified training, support and consultancy services.

"We are very pleased to be working with CAD Schroer," says Company President Angelo Corti. "As the only PTC partner that supports the entire spectrum of PTC solutions, including Pro/ENGINEER, Windchill® PDMLink™ and ProjectLink™, Pro/INTRALINK®, Pro/DESKTOP® and CADDS5®, we are proud to be able to cover all of the requirements of PTC software users. This now includes STHENO/PRO, which PTC has endorsed as the ideal drafting and data consolidation solution for Pro/ENGINEER customers."
Developed in partnership with PTC®

"PTC and CSG have been working in close partnership to ensure that STHENO/PRO's development is tightly aligned with PTC's Pro/ENGINEER strategy," says Michael Campbell, Vice President of Product Management at PTC. "The product has now reached an impressive degree of maturity and technical innovation, and we fully endorse it as the ideal 2D partner application for Pro/ENGINEER, obviating some of our customers' need for separate drafting packages, such as AutoCAD®. Pro/ENGINEER and STHENO/PRO work hand-in-glove to form the ultimate 2D to 3D solution in companies with a considerable 2D legacy or supply chain."
STHENO/PRO replaces the need for a 3-tier (Pro/E – 2D – paper) approach, working hand-in-glove with Pro/DETAIL™, offering seamless, bi-directional data exchange, and the incorporation, editing and maintenance of raster data. It allows for the quick and easy creation of things like 2D concepts, layouts and tender designs, as well as 2D adaptations of Pro/DETAIL® sheets for product designs, technical manuals, and installation designs.
"No matter which corner of the globe you visit, design engineers have much in common: they need competent advice, backed by reliable, efficient, integrated tools that work the way engineers do – freeing, rather than restricting, creativity," Michael Schroer concludes, "STHENO/PRO has managed to capture the imagination of customers throughout the world, precipitating our move for further expansion. We are always pleased to find partners who, as leaders in their field, share our passion for friendly and competent customer support, providing real added value to any systems implementation."

For more information, please visit  www.stnet.it