CAD Schroer introduces new tools, enhancements and interfaces for faster, more flexible, productive and collaborative engineering design.
Cambridge, UK and Pittsford, NY – 8 August 2013: CAD Schroer has just released version 5.2 of the MEDUSA4 2D/3D CAD suite and its 3D plant design system. The release features a new Windchill® PDMLink™ Workgroup Manager for MEDUSA4, new dynamic design tools and enhanced data exchange options.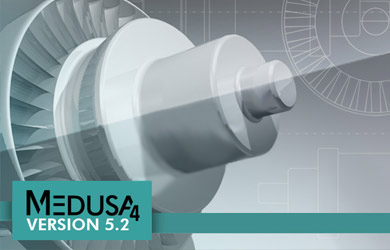 "This version is all about easy data exchange, even faster design editing, and productive engineering data management," says Product Line Manager Mark Simpson. "The new developments are designed to make it easier to work together with other people and other systems, while always benefitting from MEDUSA4's legendary flexibility and fast and intelligent design editing functionality."
Windchill PDMLink Workgroup Manager for MEDUSA4
This version introduces the new Windchill Workgroup Manager for MEDUSA4, developed in partnership with PTC to ensure continued integration with future releases of Windchill PDMLink in a homogeneous data management environment.
New License Borrowing for MEDUSA4 ADVANCED
A free treat for maintenance customers with the MEDUSA4 ADVANCED package is a new feature which allows designers to check out software licenses for use off-network – at home or at customer sites.
2D Drafting and P&ID Enhancements
2D users will see a series of productivity enhancements in the Smart Drafting and Dimensioning tools. The latest P&ID module offers a new configuration tool for administering symbol libraries and attributes, as well as element selection enhancements. The MEDRaster module for integrating and editing images in CAD sheets now benefits from the latest raster editing technology supported by ImageMagick.
3D DWG and AutoCAD Support
New flexible 3D data exchange and colour mapping options include bi-directional 3D DWG conversion. The CADConvert interface now supports the AutoCAD® file format from AutoCAD R 12 through AutoCAD 2013.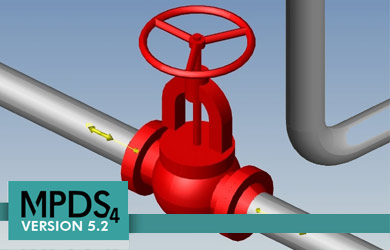 Dynamic Piping, Duct and Conveyor Design
MPDS4 PLANT DESIGN offers new functionality for fast and intuitive routing of pipes, ducts and conveyors, dynamic design editing, and intuitively moving components in assemblies, as well as new parametric equipment design and loading functionality. New tools and options for creating uneven floors with the Factory Layout module are also provided.