Ensuring high design quality from the outset guarantees the performance of a plant from the very first hour of operation.

At the start of every new plant design there is a concept for the process. Even at this early design stage, not only are the main components of the plant determined, but also a wide range of operational details, which are subsequently refined through numerous design iterations as the complex specifications for the new plant are agreed upon.
Integrated plant design right from the start
The complexity of a modern process plant is hard to comprehend and requires a holistic approach to the software systems deployed from the very outset of the design process. It is precisely at this point that sophisticate plant design software is required to provide 3D visualisation of the design and integration with other software systems.
Pipework design and other challenges
Within plant engineering, the continuing advancement of digitalisation provides new challenges for the design team. Pipe runs must be designed with future-proofing in mind as well as safety. This also holds true for the design of cable trays, ducting systems and supporting structural steelwork. The complexity of a typical process plant also provides ample opportunity for human error to creep in at the design stage. Therefore powerful software is needed to plan and lay out the design within the site, and to ensure that design errors are minimised as far as possible.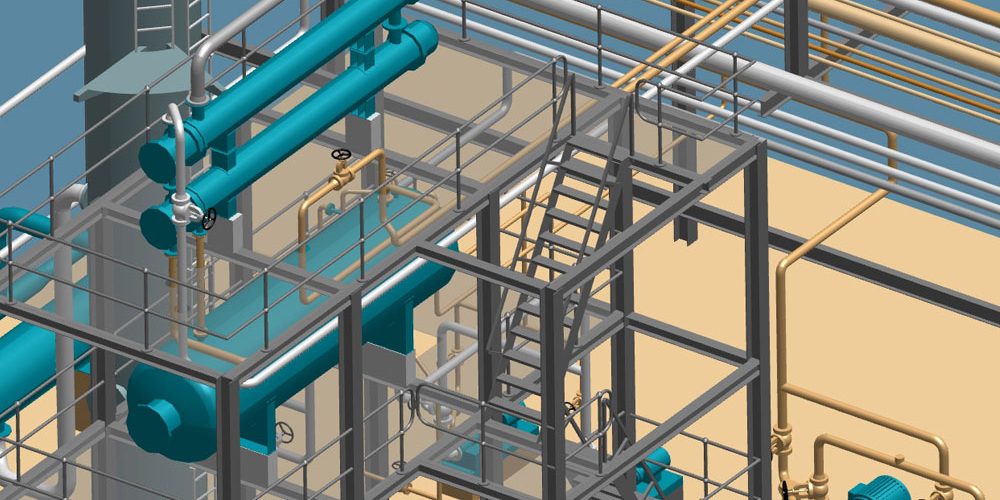 Interoperability throughout the entire design process
Interoperability provides a valuable solution by allowing changes to be reflected across all affected design areas. This is particularly beneficial for designers who frequently have to implement design changes that can have far reaching consequences, while adhering to project deadlines. The ability to reflect changes across multiple areas saves time and reduces pressure – for everyone.
Iterative, high quality plant design
Process plant design is never a linear activity. Design changes frequently occur to accommodate new ideas and additional requirements from the client, and also to overcome unforeseen technical challenges. To ensure that the integrity of the design is maintained, the software used must provide features to support the change process, and to provide effective consistency checking and collision detection.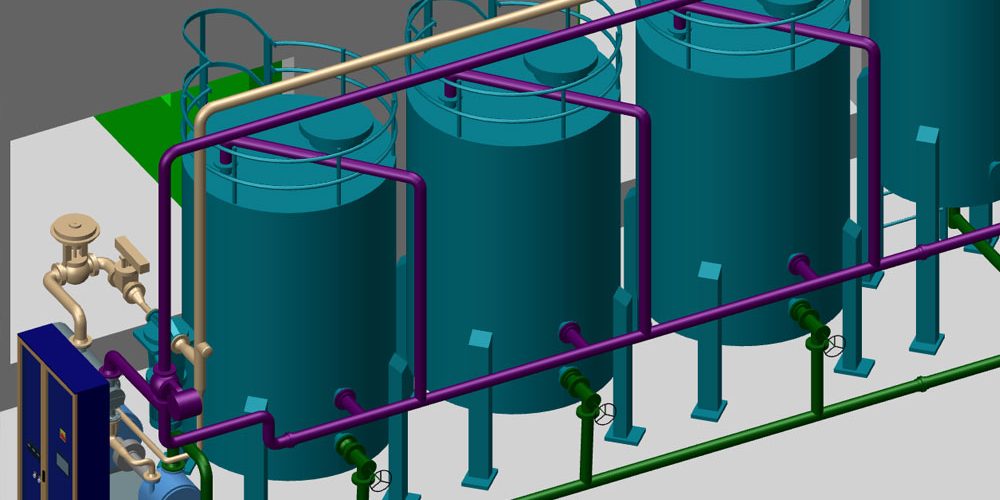 The need for intelligent maintenance
Following the completion of a plant, not only does production commence, but also the associated maintenance operations. Companies invest a proportion of their sales revenue in the maintenance of their plant equipment. The goal of every company is to minimise the potential for downtime. If the plant has been designed using intelligent design software, operators can rely on the software to accurately support their maintenance activities. After all, the more a design deviates from reality, the higher the maintenance costs will be. For example, if the plant documentation does not reflect the actual status of the plant, difficulties and time-consuming readjustments will arise during maintenance. Operators can ultimately save money by using intelligent design software from the outset and also for the long-term maintenance of their plant.
Intelligent plant design
One such system has been developed by CAD Schroer. M4 PLANT provides designers with a comprehensive tool to holistically and intelligently design process plant. In addition to extensive 3D design and visualisation capabilities, the modular suite of software also includes applications for project management and quality control.

The highly customisable software can also be configured to meet specific customer requirements. All engineering applications can be deployed together on a global scale. In this way, engineering data can be integrated across multiple sites and project teams, and shared with customers and their partners.
Trial version with support – we guide you all the way
CAD Schroer offers a free trial of M4 PLANT, enabling you to make an informed decision based on your own experience with M4 PLANT. Technical support is also available to assist you with your trial. Online support and on-site workshops provide further opportunities to build up your expertise with the software to tackle your own projects.
Size-independent 3D design
"No other plant design system meets our requirement like M4 PLANT." This compliment from a manufacturer and provider of water treatment plants highlights the value of M4 PLANT within the field of large-scale process engineering. By comparison, the professional system for plant design provides a high degree of user-friendliness, flexibility, interoperability and reliability, just a few of the reasons it is one of the leading systems on the market today.

With plant engineering, high quality design right from the start and an integrated software solution are essential for the performance and profitability of a plant.