PALFINGER & MEDUSA4 – Lifetime Excellence
PALFINGER Invests in CAD Schroer's MEDUSA4 2D/3D MCAD Suite for Advanced Design Automation
The world renowned specialist crane manufacturer counts on CAD Schroer's flexible design software for the automated production of technical specifications and assembly instructions
The Austrian company recently invested in the fourth generation of CAD Schroers product suite. PALFINGER's special highly customised engineering design environment provides the company with the greatest degree of automation and flexibility.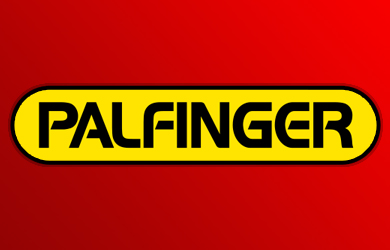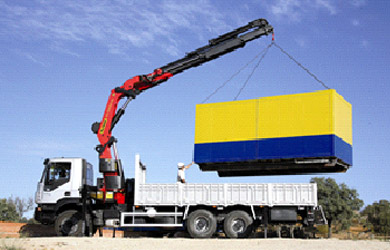 Quality & Performance without Compromise
From loader cranes to cherry pickers, on construction sites, on the railways, at sea or in public transport – PALFINGER's products are ubiquitous, and many of us meet them (and the projects they make happen) every day. The brand stands for the highest level of quality and performance without compromises. PALFINGER recently invested in around 25 seats of MEDUSA4 Advanced Parametrics, as well as additional licenses for MEDUSA4 Sheet Metal Design and interfaces to PTC Creo® and Windchill® PDMLink™.
PALFINGER's highly specialised product development department in Salzburg depends on flexibility and productivity when it comes to delivering up-to-date technical specifications and assembly instructions to its customers. "CAD Schroer's extremely customisable MEDUSA4 2D/3D CAD system offers built-in design intelligence, meeting all of our requirements in respect of technical documentation, design editing, and fast product modifications," says Henrik Binggl, Head of Software Development at PALFINGER.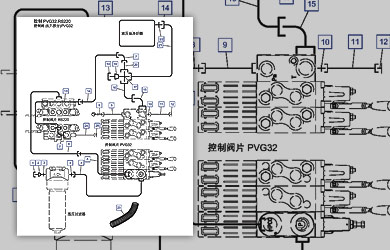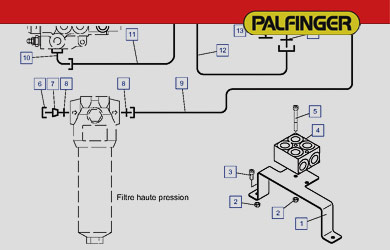 Long-lasting Quality Demands Easy Adaptations
PALFINGER's products have a lifecycle that spans many decades. Dealers, workshops and service centres can rely on clear assembly and maintenance instructions, as well as the long-term availability of spare parts. "That means that our design and documentation departments are looking after around 95,000 MEDUSA drawings, all of which may be subject to modifications. These include detailed component designs for manufacture; assembly drawings, layouts and special sheet metal designs," says Johannes Bauer, Team Leader and Project Manager at PALFINGER.
PALFINGER will be deploying MEDUSA4 on Windows (like its predecessor on Solaris) in those areas which demand speed, user friendly design (including easy 3D for traditional 2D users) and customisability. The software is used for manufacturing drawings and design modifications best done in 2D (In 1999, PALFINGER introduced PTC's Pro/ENGINEER/Creo 3D MCAD software, which integrates with MEDUSA, for new product development); for 2D layouts; and for creating technical specifications.
Automatically Created Product and Spare Parts Catalogs
MEDUSA 2D and 3D data are at the core of a highly configured system with bespoke customisations, used by PALFINGER to automatically create product and parts catalogs for dealers, workshops and service partners. "PALFINGER's experts developed a software system called EPC, which accesses a master catalog of all the available product options. The system automatically generates bespoke catalog pages for assembled equipment based on a SAP configuration, displaying each product exactly as it was manufactured. The graphics used on a catalog page can be imported as a PDF from any desired source," Mr Bauer explains.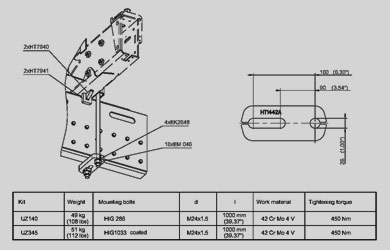 While some catalog pages consist solely of 2D schematics created in MEDUSA (such as piping diagrams), others might show typical exploded assembly drawings from Creo. Many pages draw on the best of both worlds, displaying 2D as well as 3D elements from both MEDUSA and Creo. EPC's clever process uses intelligent MEDUSA attributes and metadata, which define, for example, where the automatically generated parts lists should be positioned, and in which languages the text needs to be displayed. Catalog pages also include links imported from the drawings, which lead to important additional information. Catalogs can be automatically created in six different languages, with the option of creating a comprehensive catalog, or a catalog for a specific product type or series. Catalogs can be printed for delivery with a PALFINGER product, or created just-in-time as a PDF for users of the company's Extranet. "It is MEDUSA's open and flexible architecture which made the development of EPC (which will now be updated for use with MEDUSA4) possible," explains Mr Binggl. "A master catalog for a family of cranes consists of around 400 illustrations. There are already more than 60,000 pages of illustrations in MEDUSA. We replicate the catalog on our Extranet every single day. It is impossible to even estimate the time savings involved – without this automation, the just-in-time creation of such high quality product documentation simply wouldn't be possible."
Sheet Metal Design with MEDUSA4 SMD
Because of the large proportion of steel in PALFINGER's products, the company has a wealth of experience in sheet metal design, extensively using CAD Schroer's powerful MEDUSA SMD module, which it now calls indispensable. The tool allows users to quickly create and edit manufacturing drawings for all steel components. SMD unfolds ideal 3D shells or surface models to a flat pattern, automatically calculating bend allowances, and giving users control over edges and edge joint characteristics. 3D views of the refolded 2D profile can be positioned on the 2D drawing. PALFINGER has developed an interface to its own ERP system, which automatically derives the flat pattern and detailed component information for manufacture, as well as for downstream calculations.
PTC Creo® und Windchill® PDMLink™ Integration
By moving to MEDUSA4, PALFINGER is keen to exploit the enormous potential for further 3D/2D integration and engineering data management in a homogeneous systems environment. "As we often use Creo for detailed component design in 3D, we are keen to utilise the latest MEDPro MEDUSA4/Creo interface, which allows us to position 2D geometry, created with all the powerful MEDUSA4 functionality, directly on a Creo drawing," explains Mr Bauer. "The enriched designs are then managed by Windchill PDMLink. Our goal is consistent data management across new designs as well as our wealth of existing drawings. We also want to reduce the number of interfaces we use."
Intelligent Use and Management of Manufacturing Drawings
PALFINGER's MEDUSA manufacturing drawings are carefully constructed to deliver nearly all the information required by the company's SAP system once released, including BOMs, parts lists, and the information required for master record creation and classifications. "One of our customisations ensures that released drawings are automatically exported to PDF and DXF for standalone viewing. We also automatically isolate and create a DXF from the developed flat sheet metal profiles," Mr Bauer explains. "The viewing data can be accessed via the SAP master record, as well as being made available for controlled download by suppliers in an Extranet application."
"The things we were able to achieve with MEDUSA on Solaris will become even easier and more streamlined with MEDUSA4 on Windows. It means we can retire some of our own developments, and integrate more tightly with third party systems, leading to leaner processes and simpler automation," says Mr Binggl. MEDUSA4 supports PALFINGER in the targeted deployment of flexible, integrated engineering and data management solutions, offering the highest degree of productivity in every area of product design, and doing justice to the company's brand values of efficiency, reliability and innovation. Gilbert Koch, Managing Director at CAD Schroer AG in Switzerland, which looks after the PALFINGER account, concludes, "We're proud to see our efforts in developing leading edge engineering solutions pay off for customers as forward-thinking as PALFINGER, which uses our software to help automate complex design and documentation processes."
For more information about PALFINGER, please visit www.palfinger.com