Water Treatment Plant Design with MPDS4
"We deliver custom capital process plants to clients in the water filtration and purification area all over the world. We have been using the MEDUSA products suite for nearly 20 years during all stages of the design process, from concept to tender to build order. After a thorough market investigation, we migrated to the Fourth Generation because no other plant design product can meet our demands like MPDS4. Its reliability, flexibility, speed, ease of use, compatibility with third party systems, and ability to deliver data for our downstream QA and financial control processes is a huge benefit to our business."
– Mike Lyon, Project Director, Christ Kennicott Water Technology (now Ovivo)
Water, in many places around the globe, is more precious than gold. Today we have the same amount of water as when the earth was formed – but with a population of around 6.7 billion people clamouring for its use; and while 80% of the earth's surface is covered with water, only 1% of this is usable fresh water – a limited and absolutely finite supply, threatened by pollution.
No wonder, then, that water technology is nearly as indispensable as the life-sustaining liquid itself. Now meet Christ Kennicott Water Technology, a longstanding MEDUSA® Plant Design System (MPDS) customer, which recently migrated to the product's Fourth Generation release. The company chose MPDS4 over the Group CAD software to deliver bespoke water technology solutions to clients all over the world, providing a flexible, responsive and highly productive service in a custom project environment.
About Christ Kennicott Water Technology
Christ Kennicott is one of the leading suppliers of customised water treatment plants to clients around the globe. Each of its customers' requirements are unique. The company therefore works on a project basis to create the ideal solution for pure and ultrapure water production, drinking water production, or the treatment of wastewater and sewage.
Christ Kennicott's plant design and manufacturing teams are principally located in the UK, but its comprehensive services are delivered world-wide through a series of strategically placed subsidiaries. From project identification, development and financing, through to project management, planning, production, installation, commissioning and training, followed up by a comprehensive after sales service – Christ Kennicott delivers it all.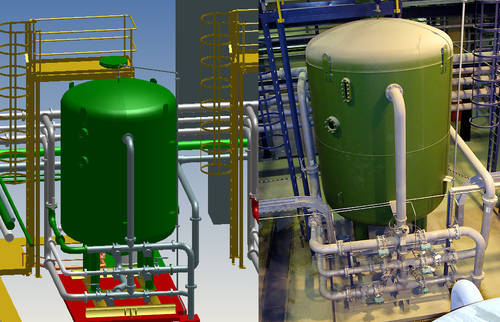 Christ Kennicott and MPDS4
For the flexibility and speed needed to design a customer's unique water treatment facility, made up of any combination of Christ Kennicott's equipment modules, arranged and connected to custom specifications, the company needed to look no further than the MEDUSA MCAD suite, including 2D, 3D and plant design.

"Kennicott first started using MEDUSA 2D in the late 1980s, and acquired the MPDS Plant Design System in 1995," says Kevin Holland, IT Manager and Systems Administrator at Christ Kennicott. "It was the company's first fully automated computer aided design package."
Root Solutions, one of CAD Schroer Group (CSG)'s major UK resellers, has looked after the Christ Kennicott account for over 12 years, since MEDUSA changed hands from CV to PTC® and finally to CSG. Root Solutions provides Christ Kennicott with software and services in partnership with CSG UK. "When CSG purchased the rights to MEDUSA in 2001, the software returned to its spiritual home; its largest German reseller," says Michael Bird, Technical Director at Root Solutions. "Customers all over the world must have breathed a sigh of relief, as the product suite once again formed the centrepiece of a provider's product strategy."
The launch of the Fourth Generation in 2004 has enticed many lapsed users back onto maintenance, prompted companies worldwide to upgrade and expand their installations, and attracted a brand new generation of users all around the globe.
MEDUSA4 offers the flexibility, interoperability, ease of use and reliability key to today's sophisticated CAD marketplace. Christ Kennicott, which (after a lapse in maintenance and a corporate takeover) considered a number of different systems for its long-term PLM strategy, has an interesting perspective – partly as an existing customer, returning to the fold, and partly as a new customer, whose contemporary management team made an informed and unbiased decision to go with the latest incarnation of this proven design solution.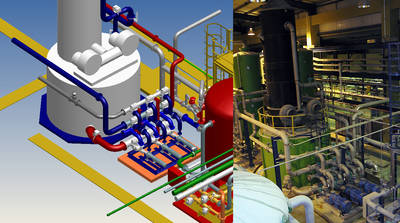 Flexibility and Design Automation
MEDUSA's unique selling points have always been its flexibility and its advanced design automation capabilities, linked to the parametric system.
Christ Kennicott operates an incredibly flexible and efficient design and manufacturing system, running on a project rather than a production principle. Speed and accuracy are both important elements in its design process, as the principal cost in a plant project is the design time. The ratio between design time and manufacture is larger than in a manufacturing scenario, where a single design is used to manufacture thousands or millions of identical parts. This is not an economy of scale, but a value-added, comprehensive service. Optimising the design process is most important. Often, the first batch of pipes required is already being manufactured as the last lot are still being designed.
Remote, Safe and Reliable
Christ Kennicott, which has long had a firm footing in the industrial and power generation arena, now attributes around 30% of its turnover to drinking water treatment solutions, with a special emphasis on nitrate removal systems with an exceptionally low waste stream.
The company's products include complete new water treatment plants, as well as "Quick Fix Plants", which can be shipped out in two containers on the back of lorries, and are typically deployed alongside existing treatment installations to increase water quality. Key words for its plants are remote, safe, and reliable. Because of the nature of its business, the units Christ Kennicott provides can be located in remote areas, and must require little maintenance.
Where drinking water is concerned, Christ Kennicott's methods use as much state-of-the-art water technology as possible to avoid or limit the use of chemicals. In addition, the equipment boasts many self-maintaining features, such as the automatic switching out of water filters after a certain time period.


The Design Process
Manjit Singh, Drawing Office Manager at Christ Kennicott's headquarters in Wolverhampton, and his colleague Paul Munns, Senior CAD Engineer, are deeply involved in the design process. They explain: "While the process plants we provide to our clients are all custom projects, we don't start the design completely from scratch when an order arrives. We use a library of standard modules, which we assemble here on-site. Each module is made up of hundreds of components, including vessels, pumps, valves, pipework and supporting steelwork. These are used as a starting point, being laid out, customised and augmented to meet the customer's specifications. So we need a system that enables us to make the maximum reuse of data, while also allowing great flexibility."
MPDS4 FACTORY LAYOUT™ – No Need to Remodel Customer Data
"I'm currently working on a condensate polishing plant for the LAGISZA supercritical power plant in Southern Poland, commissioned by Alstom Power," explains Paul Munns, who has worked with MEDUSA and MPDS for over 12 years, "It's got three service units for water polishing, sitting on a platform with their own modular pipework – there are three of these modules in total. Then there is what we call a CONESEP® system, which is 2 vertical vessels; they both sit in their own cradles."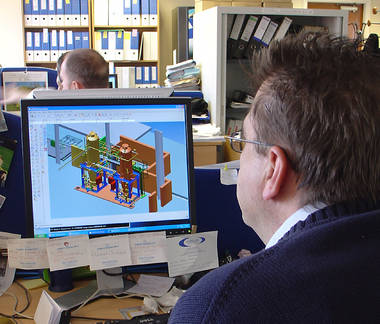 "The new FACTORY LAYOUT module is a massive plus," Paul explains, "We tend to start with drawings from our clients that show the building the plant will be designed for, and now, with FACTORY, rather than having to remodel that building with all the walls – where you easily get mistakes – we take that drawing straight in, delete the bits we don't want, and get the software to automatically create the room in 3D. Within an hour, you're all set to start putting your vessels in. We're using it on all of the jobs we're doing right now. It's great and gives you a very good cross-reference back to your 2D drawing."
"To be able to jump backwards and forwards between the systems is great," says Paul, "I can create the 2D view from the model, save it out as an AutoCAD sheet; they open it, and within minutes update their data."
The designers work to detailed customer specifications regarding the class of materials required (rubber-lined pipes, for example). Manjit and Paul explain, "Once we've modelled walls, plinths, etc with FACTORY LAYOUT, we position our standard modules." These are things like aeration and active carbon filtration units; acid dosing units (to neutralise alkalines), and UV units to kill microbes.
Once the basic layout of the large treatment equipment is done, designers use the functionality in MPDS4 to route the interconnecting pipework, steelwork, etc. Finally, control systems and other supplementary design details are completed. MEDUSA4 allows the design team to easily export their 2D arrangement drawings as PDF files for exchange with customers and suppliers during the design process, and also saves to DXF/DWG for delivery upon completion. 3D images from Plant Design are exported as 3D DXF.
Mike Lyon explains, "One of the things that really pushed us towards MEDUSA4 is the ability to give somebody a 3D model very easily, for them to put into their own model. Being able to do that is a wonderful selling point; we can just say to customers, 'what do you want, and we'll give it to you.'"

Pipe Isometrics at the Click of a Button*
After the design phase, material take-offs and pipe isometrics for manufacturing are produced automatically. Paul Munns explains, "Pipe isometrics just increases your output tremendously: I can select one or 100 pipes and, at the click of a button, complete pipe isometrics are automatically produced in a matter of seconds, containing the specialised isometric 3D view. In the past we allowed half an hour for the isometrics, to check it, to see if any lines are crossing… Now the ISOGEN™ straight out of MPDS4 has its own intelligence, and automatically spaces everything out, as well as providing an actual 3D view of the pipes – that's a great little addition."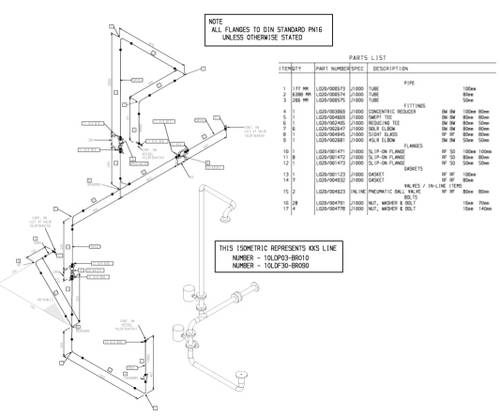 Downstream Data Use
"One of the key things about MEDUSA is the tracking, costing, and control aspect achieved through the interface with the procurement system – the ability to get bills of material, equipment lists and so forth off drawings, and feed them directly into our procurement system to give us a list of materials for purchase," explains Mike Lyon.
This was one of the customisations provided by CAD Schroer. "It's just the click of a button," says Paul, "and a CSV file is created – a parts list that you can open in Excel, and take straight into the procurement system. So you can track any one item, with its own special code, from the model to the drawing and throughout the procurement process, until it is delivered to the site."
Flexible Manufacturing
Christ Kennicott starts the manufacturing process as soon as feasible, and offers great flexibility to end customers. Components are engineered on site, then manufactured to Christ Kennicott's drawings and specifications by the company's, or the end customer's, preferred suppliers, and shipped to Christ Kennicott, where the main water treatment modules are assembled, placed on skids and shipped to client sites. In some instances, parts are shipped directly to the final destination.
Christ Kennicott Projects Worldwide
The Lagisza condensate polishing plant project currently underway exemplifies one of Kennicott's niche markets. Dave Wickett explains, "On large power stations, they have a polishing piece of equipment just to clean up the feed water before it goes back into the system. That's where we come in." In this case, the system is being engineered in the UK, based on plant, room, and process diagrams, while most of the parts for the service units, procured by the Wolverhampton office, are built in Poland and taken straight to the site.
A project recently completed for SABIC's YANSAB Petrochemical complex being built in Yanbu, Saudi Arabia, involved a 500 tonne/hr demineralisation plant and a 200 tonne/hr condensate treatment plant, both of which are vital for the production of high quality process steam. "All the engineering was handled by this office," explains Dave Wickett, "including the procurement of parts, like vessels, which were manufactured out in Dubai. Pipework was prefabricated in the UK, the skid built here, and then shipped to meet up with the vessels onsite."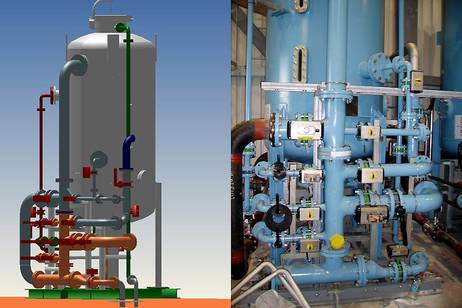 From a potable water filtration plant for Sakhalin Island, north of Japan, to a major Waste to Energy project at the Shotton Paper Mill in the UK, and a water treatment and condensate polishing plant at the Elbistan power station in Turkey, Kennicott's solutions are deployed throughout the globe, with MPDS powering the engineering process.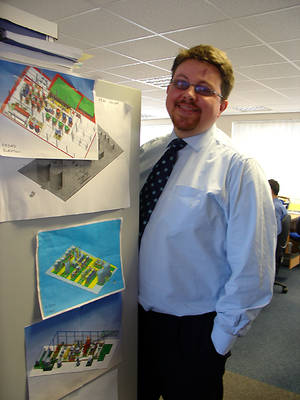 Back to the Future
In 1998, Kennicott Water Systems Ltd., as the company was then known, became part of the Best Water Technology Group AG, Austria. In March of 2002, Kennicott was integrated into the Christ Group of companies, resulting in the name Christ Kennicott Water Technology Ltd.
Michael Bird of Root Solutions remembers, "At that point, a Christ Group buying decision meant that a competitive plant design product, used at the site in Switzerland, was introduced at Christ Kennicott, and initially MEDUSA went off maintenance. Nevertheless, we kept in touch with the customer."
"The new system was a Christ group product, and the idea was that by implementing it in the UK we would be able to share resource and components," explains Kevin Holland. "We bought the licenses, and our designers spent a couple of weeks on training courses, but then Kennicott got very busy with project work."
Paul remembers using the new plant design system, "We started to try and use it, but the first few bits we tried to do we had problems with, and because of the workload, we didn't want to be fighting the new system."
The Fourth Generation
"Then MPDS4 came along, and in 2005 we were invited to demonstrate the Fourth Generation software at Christ Kennicott, together with Root Solutions," says Mark Simpson, CSG's Product Line Manager.
Dave Wickett remembers, "I came in from a background of many different CAD systems, and I said to Mike, why are we running with this new system? I've been in a position where we have had serious problems with this package. As soon I talked to Mark Simpson at CAD Schroer, and he told me MEDUSA4 has VRML, STL, 3D DXF, plus it'll integrate with our procurement system, I thought, hang on, this package has been seriously undersold."
As part of its commitment to due diligence, the company did a thorough search of the market to look at available options for its future PLM strategy. When Christ Kennicott's team saw the new owners' commitment, and the development effort that went into MEDUSA4, which made it a highly cost effective alternative to the group system, and technically much better geared towards the projects Kennicott delivered, it quickly took the decision to migrate its MEDUSA 12 (classic) environment to MEDUSA4 2D, 3D, Plant Design, FACTORY LAYOUT and Document Management licenses.
"It's not just about the cost of one software package over another," adds Dave Wickett. "You can't underestimate the value of MEDUSA when looking at replacing the system, especially for the operators, old and new, who were a lot more comfortable with MEDUSA4, rather than the other systems. That's a huge benefit, simply because of 'day one' use."
"That means you get running straight away," agrees Mike Lyon. "One of the problems we had when we looked at the other CAD system was that … just the getting started was really difficult. whereas migrating to MEDUSA4, it really was a case of put it on the machine, and the next day Paul started to work on it."
Paul agrees, "I did not find the group's system easy to use. There was a lot of preparatory work before you could start drawing. It didn't suit our operation. You open MPDS4, and you just start. Also the multi-user is great – several of you can be working in the same area. This is the fourth system I have used, and I couldn't imagine achieving with the other three systems what we do with MPDS4. I'd use it first time on anything….With any other system, I don't think we could turn the work around as quickly as with MPDS4."
Since the upgrade, Kennicott has put three more designers through the 2D course, and three more through 3D training. "We have some completely new entrants who have never done 3D before, and have taken to MPDS4 like a duck to water," says Dave Wickett.
Intuitive and Easy to Use
Paul agrees, "I did not see the new system as a user friendly system, whereas MPDS4 is very user friendly. I used to work Saturdays, and sometimes bring my little boys in – they were 9 or 10 and wanted to have a go. They quickly understood the principle of it: Point, load, the component appears. And we brought a colleague back recently, who hadn't used the system in over 4 years. Within three or four days he was up and running again with the Fourth Generation. He's just flying with it."

3D Modelling Speed
CAD Schroer's complete overhaul of MEDUSA has also meant a huge improvement in speed and performance, especially noticeable in a highly graphical 3D package like MPDS4.
Paul enthuses, "The software is phenomenally fast now. I really enjoy using it. It's one of the main things that helps me enjoy my work – the day goes by so quickly."
According to Dave Wickett, MPDS4's 3D modelling capabilities have really impressed Fluor, a U.S.-based global player in contract execution, which commissioned Christ Kennicott's three latest projects. Unlike other modelling systems that lack the ability to produce or import standard 3D formats, Fluor can easily import models produced by MPDS4 into their own models for viewing and clash detection.
"Purely the fact that we have the capability to model in 3D was a really strong selling point for us on those projects," Mike Lyon agrees with his Engineering Manager. "When we're selling into the petrochemical market or the power market, the fact that we have those capabilities aligns us well. Also in municipal drinking water the requirement to work in 3D is starting to be mandated by some of the large water treatment PLCs. And it's not just the fact that you can 3D model, but that you've gone down the line seriously with a serious package. It gives you added credibility."

Stability and Reliability
The MEDUSA product range has long been known for its stability and reliability, a point Mike Lyon was keen to emphasise. "All the time we've run MEDUSA, I don't think we've ever had a serious software-related technical problem. We've never had a horrible situation where, all of a sudden, the model's gone. It's been a very reliable software package; the CAD side has been really really excellent."
According to Dave Wickett, that is not the experience he has had with other systems. He quotes examples of companies losing hundreds of thousands of pounds worth of data. "There is a huge comfort factor for the guy sitting there, knowing that it's not going to roll over because the model's too big. That just doesn't happen with MEDUSA."
Summary
Christ Kennicott is a great success story. The company's return to the fold is a true testament to CSG's hard development work and commitment to innovation in the MEDUSA4 product range. And for this customer, it wasn't just a matter of simply migrating to a newer version and platform – they looked at the competition, and compared it to the expediency of running the Group software, and MEDUSA4 still came out on top.
"The great thing for us about MEDUSA4 is that it isn't just a drawing system," concludes Mike Lyon, "It also generates data for our procurement system and our financial controls; it impacts on the whole engineering office. We are trying to increase the amount of work that's done on the system, because no other plant design product can meet our demands like MPDS4. Its reliability, flexibility, speed, ease of use, compatibility with third party systems, and ability to deliver data for our downstream QA and financial control processes is a huge benefit to our business."
For more information about Christ Kennicott, please visit www.ovivowater.com.
 *MPDS4 offers an interface to the ISOGEN™ software, and integrates directly with CAD Schroer's M4 ISO software (released in 2014). Either software is a prerequisite for creating automated piping isometrics.