Burckhardt Compression & MPDS4
"As a global leader in reciprocating compressor technology, we engineer and build our products at our own manufacturing sites before they are shipped worldwide. In February of 2007, we commenced our 550th project with the MEDUSA Plant Design System, a milestone that almost speaks for itself. CAD Schroer's software is a key project enabler, and the migration from MEDUSA NG to MEDUSA4 and MPDS4 has put us in a strong position for further growth in a buoyant market place. We have benefited immensely from CAD Schroer's dedication to product innovation, and the unremitting personal commitment of its team of technical consultants during and beyond the upgrade process."
– Mr Richard Schilliger, responsible for PLM strategy at Burckhardt Compression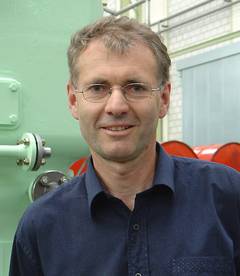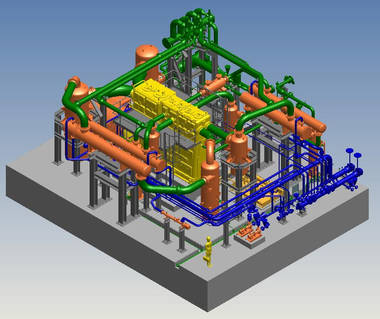 "Hurray!" enthused a recent e-mail by Burckhardt Compression's CAD/Plant Design Manager, Marcel Blumer. "The latest order from China on the 26th of February 2007 means it's time to celebrate our 550th MPDS project!" In a Europe where manufacturing has experienced some uncertain times, with globalisation and a shift of production centres demanding increasing flexibility, innovation and specialisation, Burckhardt Compression is an over 160-year-old success story.
The Swiss company's dedicated CAD and plant design team works mostly in 3D to fulfill orders for its specialised solutions in oil-free, process gas and hyper compression. Burckhardt Compression has been using MEDUSA since 1986 and its MPDS plant design system since 1988. It is now benefiting from the Fourth Generation incarnation of the powerful product suite, which allows even greater process integration, standardisation, systems interoperability, speed and flexibility.
About Burckhardt Compression
From its roots as "Franz Burckhardt, mechanic", established in 1844 in Switzerland, Burckhardt Compression (BC) has grown and developed into one of the world's most recognised reciprocating compressor technology providers. BC, whose strapline is "Compressors for a Lifetime", is the only company that develops, engineers and manufactures a complete range of labyrinth piston, process gas and hyper compressors. It has its own manufacturing sites at headquarters in Winterthur, Switzerland, and in Pune, India, serving customers in the fields of oil refining, chemicals and petrochemicals, air separation, and gas transport and storage.
BC's clients – often multi-national companies managing large process installations, especially in the Middle East and Asia – deploy compressors to raise the pressure of, reduce the volume of, or to cool or liquefy gases such as hydrocarbon, industrial and boil-off gases. The company's worldwide sales, service and support network consists of 12 subsidiaries and over 42 representatives, offering a comprehensive customer support service, delivered by highly trained experts with detailed knowledge in each particular compressor application area. Since June of 2006, BC has been listed on the Swiss stock exchange, and has seen impressive growth in order intake, revenue and staff members.
The reciprocating compressors provided by BC fall into three categories: Laby® Labyrinth Piston Compressors (oil free compressors with contact-free sealing and a discharge pressure of up to 300 bar, for use in the Food and Beverage, Industrial Gas, Steel and Chemical, Oil and Gas and the Petrochemical Industries; in product pipelines, refrigeration and cryogenic installations); API 618 Process Gas Compressors (lube or non-lube, horizontal or vertical versatile compressors with a discharge pressure of up to 1000 bar for hydrogen, hydrocarbons and corrosive gases for use, e.g., in gas and petrochemical plants, the chemical industry and oil refining); and Hyper Compressors (very powerful, high-pressure reciprocating compressors for low density polyethylene plants, with a discharge pressure up to 3500 bar).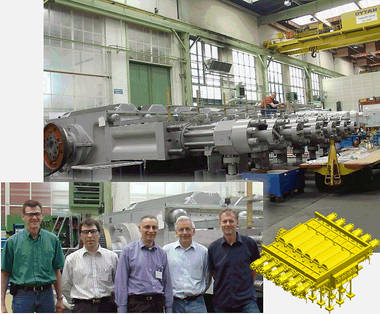 In 2006, not long after the release of MPDS4, BC upgraded its MPDS, MEDUSA 2D and MEDInfo™ (document management) systems to MEDUSA4, taking advantage of the Fourth Generation technology developed by CAD Schroer Group (CSG) as part of the company's pledge to modernise and innovate after acquiring the product suite from PTC® in 2001.
BC delivers most of its compressors as part of complete installations to customers around the globe. It works on a project basis, as each customer's requirements are unique. The company works heavily in 3D and with a variety of CAD formats, both internally and with designs provided by customers and suppliers.
Mr. Schilliger, who co-ordinates BC's PLM strategy, and looks after the entire MEDUSA4 and MPDS4 implementation (as well as Unigraphics® and SAP®) explains, "In the drawing office, we use three generations of designs for our project work: scanned-in hand drawings; Unigraphics® (UG) models, and MEDUSA4 2D designs. Then there is MPDS4 in our dedicated plant design section. All of this data is actively used and centrally controlled and administered via our SAP® system."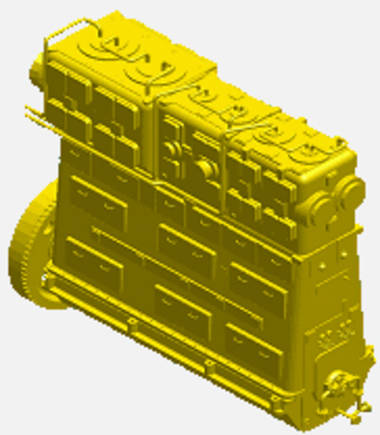 The combination of CAD systems used depends on a given project. For compressors which are custom produced to fit into complex processing installations, MPDS4 is key for assembling 3D components into entire process plants. MEDUSA4 2D is used for all accompanying 2D drawings and documentation, including tenders, arrangement drawings, symbols, etc. BC also delivers on-board compressors for ships. These are standard components originally designed by hand, and the scanned-in drawings still find use today.
All 12 plant design experts at headquarters in Winterthur use MPDS4 as well as MEDUSA4. Another 25 engineers in the design office use MEDUSA4 DRAFTING and UG. In addition, two or three external contractors and two or three staff members in the manufacturing plant use MEDUSA4 2D.
BC's plant designers usually start a new project by copying assemblies and components from past designs, and placing them in the new plant design. They are then edited and amended, and augmented by the required pipework and steelwork components. The detailed 3D components that make up its compressors are designed for manufacture in UG. In the past, these were remodelled, in less detail, in MPDS for plant layout and design purposes. The STEP interface for 3D conversion in MPDS4 v 3.0 lets BC take its UG models straight into MPDS4, working with detailed or simplified designs, as required. Prior to its release, Achim Maihöfer, CSG's technical lead on the BC project, imported the models for the customer whenever required.
"These models are placed in the new plant design as part of complete assemblies. Our compressors often form part of much bigger, complex plants, such as entire oil and gas processing installations," explains Marcel Blumer, the company's MPDS4 "power user" in the contracting department, who has been working with the product since 1988, and spends all of his design time on the tool.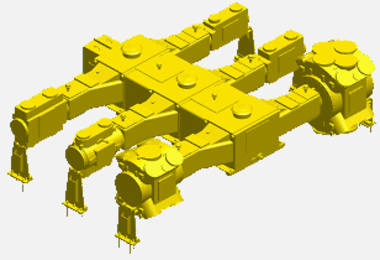 From the Drawing Board to the Desert: A K12 Hyper Compressor Travels to Saudi Arabia
An MPDS model of the complete K12 hyper compressor installation. The supporting frame is third party data imported into MEDUSA 3D via the STEP interface.The K12 Hyper Compressor, engineered and built by BC, is the most powerful single frame reciprocating compressor in the world. This K12 hyper compressor was ordered by a petrochemical company in Saudi Arabia for a plant compressing ethylene (C2H4) for producing LPDE, a chemical used throughout the plastics industry. It has a suction volume of around 127,000 Nm3/h, a discharge pressure of 2650 bar, and is driven by a 27500 kW electric motor.
An MPDS model of the complete K12 hyper compressor installation. The supporting frame is third party data imported into MEDUSA 3D via the STEP interface.
The complete compressor plant, designed with MPDS4, includes supporting frames for motor and compressor. The French subcontractor responsible for this part of the installation delivered a model to Mr. Blumer, which was imported into MEDUSA4 3D via the STEP interface. The plant design also includes the motor, all electrical controls, pipes and tanks.
"The compressor is fitted with an advanced remote diagnostic system," explains Marcel Blumer, "Once it is on site, our experts here in Switzerland can monitor things like the position of the plunger, temperatures, rotation speeds and acceleration, quickly identifying maintenance issues."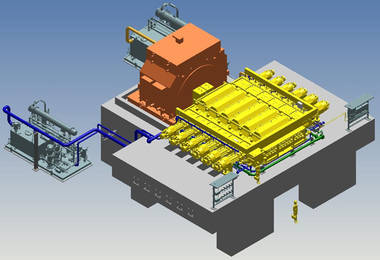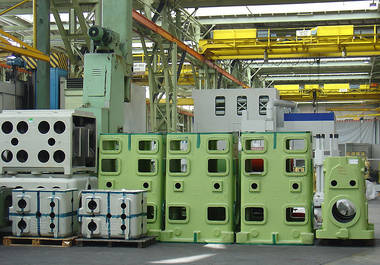 "When an order for a K12 comes in, BC straightaway commences the design process. Each project is carefully managed to ensure efficient communication between all external and internal stakeholders. "This type of project requires around 400 hours of CAD work," explains Mr. Blumer. "There's the 3D modelling, the plant design, piping, pipe isometrics, P&IDs, bills of materials…We are looking at a project length of at least one year, including the manufacturing."
Once the design phase is complete and manufacture begins, BC can call on a team of highly qualified engineers, using the latest NC technology for precision manufacturing.
Once assembled, quality checked and tested, the compressor has to be dismantled for travel abroad, and receives a protective casing to allow it to be lifted and shifted. This casing, along with the special lifting device needed for the machine, which, completely assembled, weighs 350 tonnes, was also modelled in MPDS4.
The K12 was driven to Basle, and shipped from there on heavy duty canal boats to Amsterdam, from where it set off by ship for Saudi Arabia.
From Laby® compressors for liquefied natural gas (LNG) receiving terminals in the UK and Mexico, or ethylene storage in Tianjin, China – to process gas compressors delivering hydrogen for hydrogen desulphurisation at a refinery at La Coruña, Spain -BC's projects require extensive engineering know-how and complex project coordination among global stakeholders. As such, the company needs its plant design package to grow with its own operations and expectations.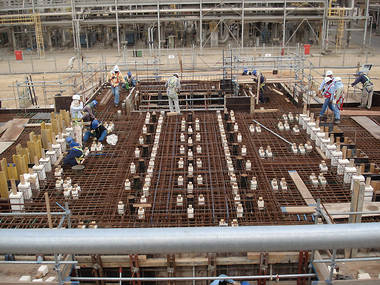 Joining the Fourth Generation
"We had an in-depth look at the Fourth Generation technology at CAD Schroer's Swiss customer day in April of 2005, and saw many business advantages in upgrading from MEDUSA NG," says Peter Fässler, who looks after Information Technology at BC. His colleague Richard Schilliger adds, "Our company has been growing by leaps and bounds, including the development of further design offices and manufacturing sites. We quickly discovered that the Fourth Generation, with all its new functionality, would enable us to consolidate and standardise processes, and also offered big advances in CAD interoperability, usability and automation."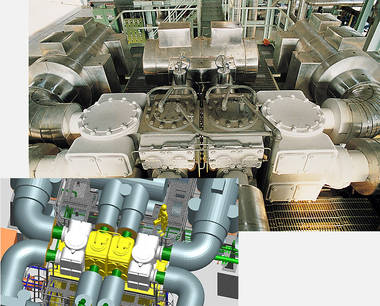 In the meantime, Burckhardt Compression has completed more than 560 MPDS projects (to ANSI, DIN or PED standards); designed over 800 Laby®, process gas and hyper compressors; created more than 1,600 P&IDs, over 6,500 arrangement drawings, more than 1,600 tender drawings for precipitators, dampers and gas coolers; over 10,000 pipe isometrics with ISOGEN™, and created over 13,000 controls and instruments in MPDS. The CAD team has designed over 12,000 project-specific 3D models of motors, gas coolers, precipitators, dampers etc., as well as more than1,700 models for its standard parts library. "We have a large plant design database, with over 550 MPDS plants stored as templates to form the basis of future projects," Mr. Blumer points out.
"With this level of investment, it's essential for us to stay up to date with software developments, and benefit from the new functionality, as well as the new product look and feel, which has been greeted with great enthusiasm," adds Mr. Schilliger.
As a maintenance paying customer, the license upgrades for BC were free of charge. But because the upgrade was also an opportunity to consolidate design processes, return to standard product where customisations had been superseded by new developments, and adapt customisations to suit the company's growing requirements in an international arena, BC called on the technical consultants at CAD Schroer AG near Zurich, Switzerland to help maximise the benefits of MEDUSA4.
"We delivered our initial requirements analysis for the first part of the upgrade – MEDUSA4 2D and MEDInfo – to Messrs Schilliger and Fässler in July of 2005, and began the project the following month," explains Gilbert Koch, Managing Director of CSG's Swiss subsidiary.
Customised Data Management with MEDInfo™
MEDInfo, MEDUSA's Information Management tool, administers the components, lists and drawings created by BC with MEDUSA4, including pipe isometrics, for example, allowing designers to identify original isometrics, as well as edited drawings. Achim Maihöfer worked closely with Peter Fässler and Marcel Blumer to upgrade the functionality and implement the changes necessary for a smooth transition to the Fourth Generation.
"We use a highly customised version of MEDInfo for our unique data management processes, especially parts list administration," explains Mr. Schilliger. "Mr. Maihöfer upgraded and rationalised our customisation, updating the Bacis2 Code. Our parts list administration is now done via a new dialog, which allows us to create list variants, but then calls standard system functions whenever available, minimising maintenance issues. Among other things, all DOS entry windows have been replaced with a modern UI, and our plotting processes were simplified enormously, improving stability and maintainability."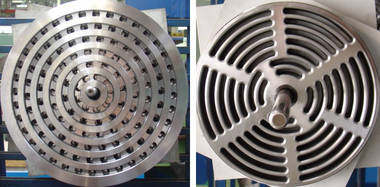 MEDInfo and MEDUSA are tightly integrated with BC's SAP® system, ensuring that parts lists, for example, are synchronised, and engineering processes linked up with overall business processes, allowing the passing on and tracking of project information from inception through procurement and manufacturing, to delivery and maintenance. "We feed our MEDUSA meta data and document data into the SAP system, and get the material master records from SAP," explains Richard Schilliger.
BC initially upgraded 57 MEDInfo licenses (many of them standalone licenses for project leaders) and 28 MEDUSA4 2D licenses.
MPDS4 – Hot off the Press
When MPDS joined the ranks of the Fourth Generation in March of 2006, BC was one of the first companies to upgrade its 10 licenses, with the help of CSG's engineering services team. Among the customisations adapted to the Fourth Generation was BC's own piping parts catalogue, which got a UI face lift. "Most of the customised programs worked without a hitch in the new release," says Achim Maihöfer.
"Because MEDUSA is very flexible, we were also able to write our own custom P&ID solution, which we were able to upgrade to MEDUSA4 ourselves quite easily," adds Peter Fässler.
"The overall MPDS4 UI, like that of MEDUSA4, is very intuitive and easy to use, so we did not have a huge learning curve," Marcel Blumer points out.
"One of the important features of MEDUSA4 and MPDS4 is their ability to interface with other systems and formats," says Richard Schilliger, "Whether it's internal, supplier or customer data; it's a tool that's open to all sides, allowing for easy data import and export, be it DWG, DXF, IGES or STEP."
Localising for Global Markets
Another important solution provided by CSG during the upgrade project was the ability to localise the software and customisations (UIs as well as messages), and to easily implement more languages as the company expands. This is highly relevant for BC's Indian design office, for example, which will be working with MPDS4 to increase overall corporate flexibility, allowing the company to distribute plant design projects for effectively managing peaks in demand.
Heinz Wegmann of CSG Switzerland provided MEDUSA4 migration and 3D training for 50 designers at BC. Achim Maihöfer instructed the MPDS4 users.
Engineering in Partnership
"Of course many companies like to wait around for one or two revisions when a new upgrade is introduced," says Richard Schilliger, who is responsible for making sure that MPDS4 works efficiently, and who decides on further developments or changes in design processes. "But we had already upgraded MEDUSA and MEDInfo, and MPDS is critical to the company's business, so we were keen to get our licenses up to date. We've had a close relationship with CSG's Swiss office since it was founded in 2000, and so we know if issues do arise we can expect a competent, timely response."
Gilbert Koch agrees, "We have a close and very professional relationship with Burckhardt Compression. Any issues that arose during the migration were handled as quickly as possible. BC's project management is absolutely exemplary, with a thorough understanding of how issue escalation is used most effectively. From the very beginning the team listened, and was open to suggestion."
Richard Schilliger adds, "And in return, the CSG team in Switzerland worked hard to make this migration a big success; sometimes working beyond the call of duty – and we appreciate that."
Marcel Blumer agrees, "With CAD Schroer, we never feel like our issue reports just disappear in a dark hole. The speed with which we receive updates (usually within two or three months) is commendable, and not typical of most CAD vendors."
The migration allows BC to work with a state of the art product that is "future proof", addressing new CAD challenges and possibilities as they arise. "The new STEP interface in version 3, for example, is excellent," says Mr. Blumer. "We were really impressed to see how well the import of our UG models worked."
BC is also looking forward to the ability to import complex models of huge installations into MPDS4, to then assemble its compressors into the client framework. In addition, it will be making more use of the MPDS4 ENGINEERING REVIEW Module for creating virtual walk-through movies of its installations, which can be used for existing and potential customers, as well as for training purposes.
"In February of 2007, we commenced our 550th project with the MEDUSA Plant Design System, a milestone that almost speaks for itself," concludes Richard Schilliger. "CAD Schroer's software is a key project enabler, and the migration from MEDUSA NG to MEDUSA4 and MPDS4 has put us in a strong position for further growth in a buoyant market place. We have benefited immensely from CAD Schroer's dedication to product innovation, and the unremitting personal commitment of its team of technical consultants during and beyond the upgrade process."