Cambridge, UK and Pittsford, NY– 15 July 2010
Release 5.0 of CAD Schroer's mechanical CAD design automation suite, MEDUSA4, can feel good in its skin – The latest UI and usability enhancements join many new dynamic editing tools for intelligent, highly productive 2D/3D design.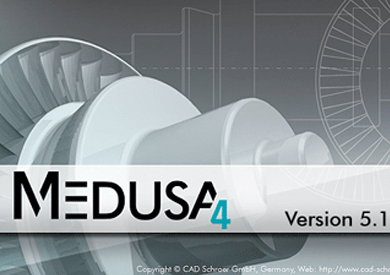 "The latest release of the MEDUSA4 2D/3D drafting suite emphasises an enhanced user experience on all levels," says Product Line Manager, Mark Simpson. "A wealth of new dynamic editing tools shorten engineering project times and enhance productivity. A new skin keeps the UI at its most efficient, and we've worked hard to optimise usability across many familiar tools. We continue to develop our interfaces, integrations and the product's flexibility to slot in with existing engineering systems and data."

The P&ID module, tightly integrated with the 2D and 3D plant design environments, has been given special attention, with significant enhancements in most areas, including use of layers; reporting; CSV export; and P&ID line editing. There are new tools for filtering, grouping, selecting, loading, placing and dynamically moving symbols.
Intelligent, Dynamic Design
Intelligent tools to speed up and even completely automate design processes have long been a hallmark of CAD Schroer's software, and the newest version of MEDUSA4 is no exception. Administrators now have even more control over the information content of individual drawings. New dimensioning options provide enhanced usability and greater flexibility. Parts lists can now be generated more easily from several drawings. In addition, the MEDUSA4 standard parts library has been revised and updated in line with industry developments.
Engineering Data and Process Integration
In the area of ERP systems integration, further controls have been provided for the MEDUSA4-Teamcenter® interface. Enhancements to the processing of colour raster data in MEDUSA4 designs further increase speed and flexibility when it comes to presenting external images. New DXF/DWG, STEP and IGES import and export options ensure easy integration of external CAD data.
"Close contact with design engineers worldwide drives our development process," says CAD Schroer's founder and Managing Director, Michael Schroer, "We are known for reacting quickly and flexibly to customer requirements. Flexibility is also a key component of the software we provide."