Design complete factory and machinery layouts in 2D and automatically obtain 3D designs
Machinery and factory layouts, in the form of three-dimensional models, offer enormous advantages over 2D representations, especially during the pre-sales and project development phases. In addition to improved design quality through collision detection and accurate parts lists, they also impress customers and provide a better understanding of the overall design.
The customer's view of 2D
Factory layouts, floor plans and complex designs are still too often presented to the customer in the form of a 2D drawing. Consideration needs to be given to the customer's point of view because they are often not an engineer or designer. In a complex design, much of the detail can only be understood with deep technical expertise. The consequence of presenting a design in 2D is that much has to be explained to the customer as they find it difficult to correctly interpret the 2D drawing.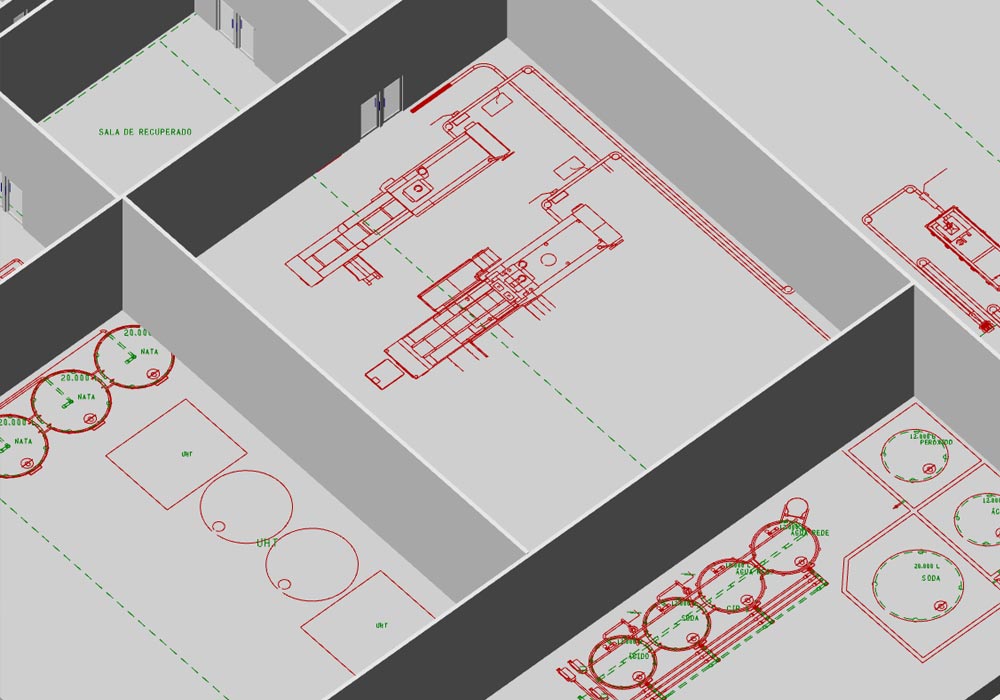 Our natural 3D view
We humans naturally see in three dimensions, so to us the benefit of 3D visualisation is obvious, although it may not always be directly requested by the customer. Design reviews are far more productive in 3D. Potential issues can be easily spotted by both technical and non-technical stakeholders alike. If problems remain hidden until at a later time, as is often the case with 2D drawings, the associated remedial costs increase exponentially. The greatest impact occurs when errors become apparent during construction.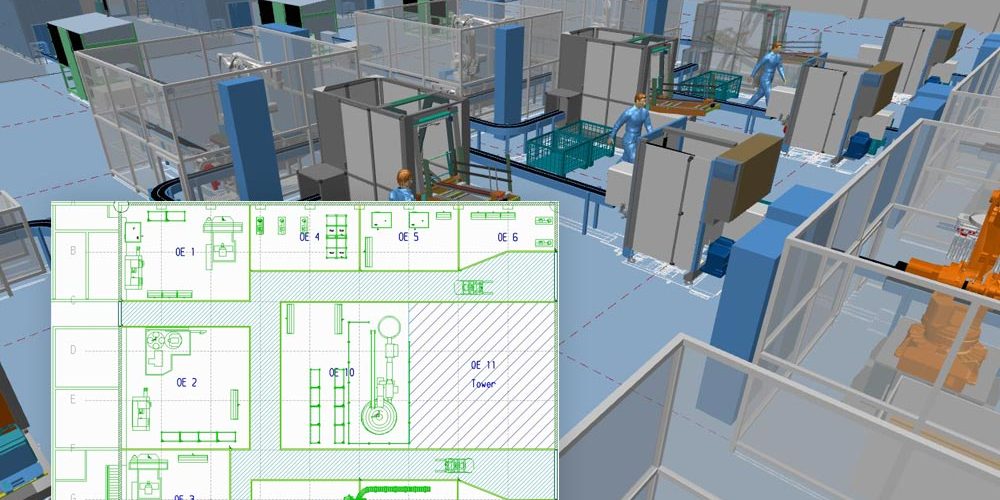 Create a lasting impression
First impressions count, especially when presenting a design proposal to a customer. The customer will often be faced with several professionally produced competitive proposals, and will weigh-up many factors when deciding which proposal to choose. An eye-catching 3D walk-through presentation can make all the difference, especially if the customer can review their new factory or production line in immersive virtual reality. This is certain to impress and leave a lasting impression.
Worried about ROI?
Introducing a new 3D system can initially be costly because software has to be purchased, and staff need to be trained to use it. Management will undoubtedly require a sound justification, and a rapid return on investment (ROI) will often be a key requirement for approval. The following factors should be considered when determining ROI because most will be improved with the introduction of a 3D system.
1. Design quality
With detailed BOMs, consistency checks and comprehensive collision detection, 3D factory layout design offers considerable benefits by eliminating design errors. This especially the case for problems that would otherwise arise during construction.
2. Design time
The availability of pick-and-place standard components and machinery from 3D catalogues helps to greatly reduce project design times. Auto-routing tools and specialised wizards further speed the design process. The automated generation of 2D layout drawings and sectional views from the 3D design also saves an enormous amount of time, reducing project lead times and giving you more time for more projects.
3. Win more projects
Presenting designs in 3D impresses customers and helps you to win more business. With large capital projects, winning one additional project can be enough to fully justify the cost of purchasing the 3D system.
4. Better customer feedback, fewer alterations
Advanced 3D design systems often offer a compact export option, which allows you to easily send the design data to customers by e-mail. The design can then be reviewed by the customer with a free 3D viewer, enabling them to provide you with fast and accurate feedback. This saves many unnecessary on-site meetings and leaves more time for further projects.
In addition to time and costs saved in the design process and customer communications, you can also quickly generate impressive-looking screenshots and videos for presentation on your company website. This leads to a greater number of enquiries from potential customers, and also eliminates costs that would previously have been spent on rendering promotional images and videos.
Don't delay, because time is money
The time of your staff is precious. Especially when deadlines are tight and multiple projects are being juggled at the same time. It is worth taking some time to consider why your staff always seem to be under pressure. Perhaps there is unnecessary duplication of effort with the current system. Are there manual tasks that could be automated, such as the creation of BOMs? You may find that with a small investment of a few days, employees could be able to handle more projects in less time and with higher quality.
It's easy to get started
Once the need for a 3D solution has been established, the next step is to find the best system for your requirements. CAD Schroer's M4 PLANT is a comprehensive 3D design solution that provides an extensive feature set for factory design and production line layout. A first impression of the software can quickly be obtained via an individual webcast, in which all your questions relating to its capabilities and costs will be answered.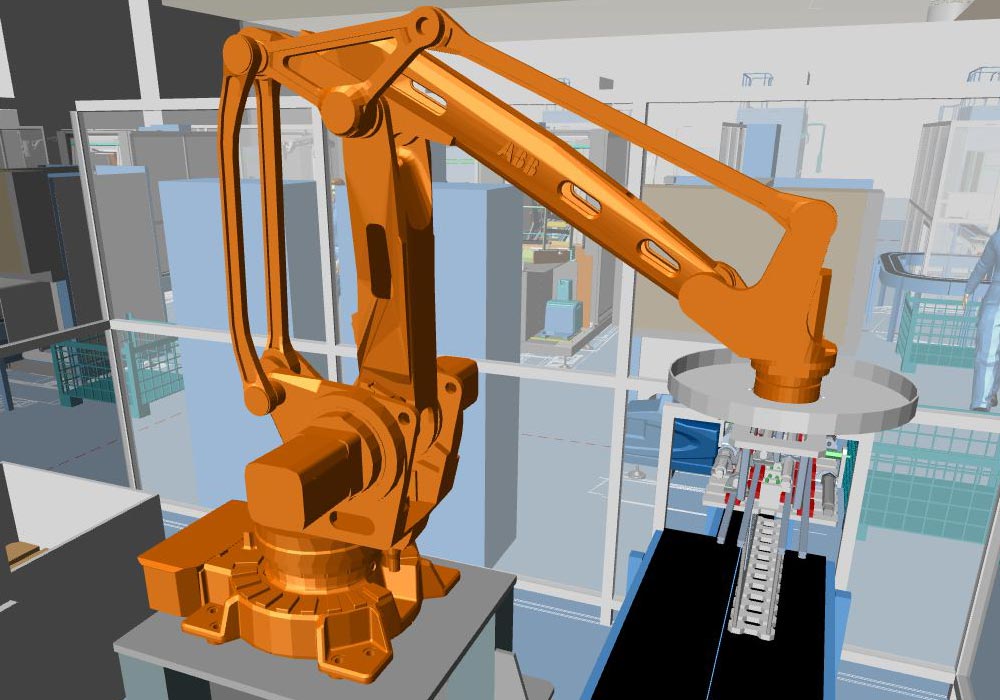 Test with your own project data
The next step is usually an extensive software trial using your own project data to help you choose a system that fully meets your requirements. M4 PLANT can be downloaded directly from the CAD Schroer website for a free 30 days trial. Video tutorials and comprehensive documentation are available to help you get started. Free online support is also provided during the trial. Customers like to be impressed. This is best achieved with an eye-catching 3D walk-through presentation, especially in immersive virtual reality.